Woosir Leather Travelling Bags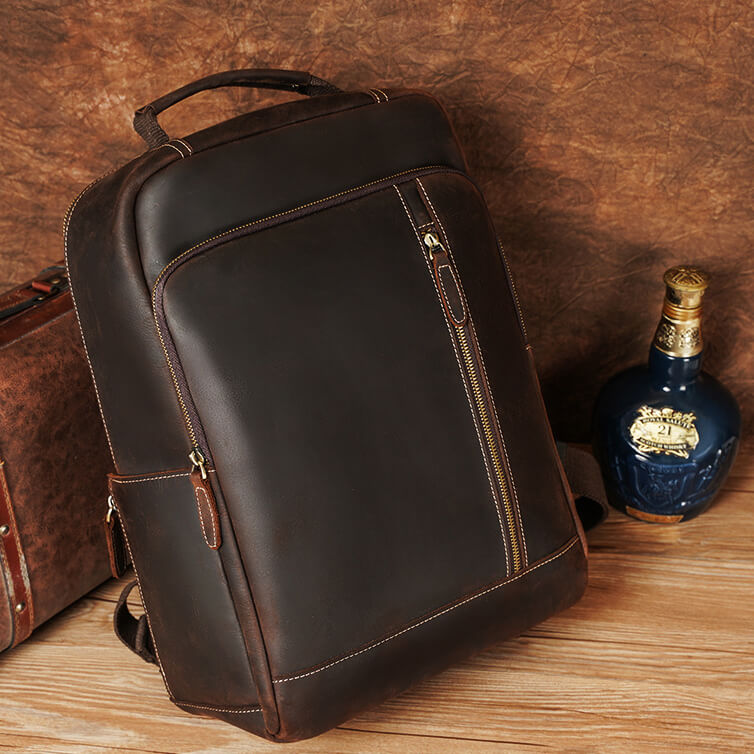 On a busy day of travel, a single bag is easier to carry than a bunch of heavy suitcases; you don't have to worry about lugging around a lot of luggage to do things like look for a good hotel, get on a crowded bus, or sprint to make a train on time.
With leather traveling bags, you get greater load capacity without sacrificing durability is possible thanks to their elasticity. You can fit a laptop, clothes, and even shoes into your spacious leather travel bag.
Although these types of bags are pricer to buy a leather travel bag of high quality, they will last longer as travel bags made of leather will last for many years if you are a frequent traveler.
Mens leather traveling bags
Using a travel backpack makes it simple to store your belongings when you're not using them. To make storage a breeze, the backpacks feature a compact design. Traveling by plane, train or bus is a breeze because you can stow your essentials away in the overhead compartments.
The leather backpacks have both soft and hard parts, and the soft area can be used to store the bag in the storage area. In addition to this, compression straps on these backpacks make it easier to keep your belongings secure.
Comfort
When compared to other types of travel bags, a top-notch leather backpack provides the best level of comfort. You won't feel as much strain on your back because of the way the backpacks are designed to distribute the weight.
Since the weight is distributed across the hips, shoulders, and even your back, you can carry a backpack for up to eight hours. The thick padding on the straps adds to the overall comfort.
Canvas backpack for traveling
Many people prefer canvas backpacks because they are durable and can last for a long time. People can select high-quality, fashionable, and ready-for-any-occasion canvas backpacks from a variety of designs.
Waxed canvas backpacks
Waxed canvas was originally designed to protect cargo from the weather. However, since its discovery, waxed canvas has grown in popularity due to its low production cost and incredible utility, enabling you to have a fantastic and durable backpack at a fraction of the price.
It's the wax coating that makes scuffs and marks on waxed canvas bags look more appealing, rather than dirty. As a result, they do not need to be cleaned as frequently. The wax coating on the canvas will wear off over time, necessitating a re-waxing every couple of years.
Durability
Waterproof and long-lasting, the canvas is made of waxed, densely woven fabric. High-quality, waxed canvas materials are used to make these canvas backpacks, which are well-known for their long-term durability. Canvas backpacks are available in a variety of styles and sizes, including regular, small, and large.
In addition to this, you can also opt for different types of canvas bags such as the Woosir Cotton Canvas Tote Bags as they are a must-have for your everyday travel essentials!