Woosir Leather Suitcase Collection | Take It Wherever You Go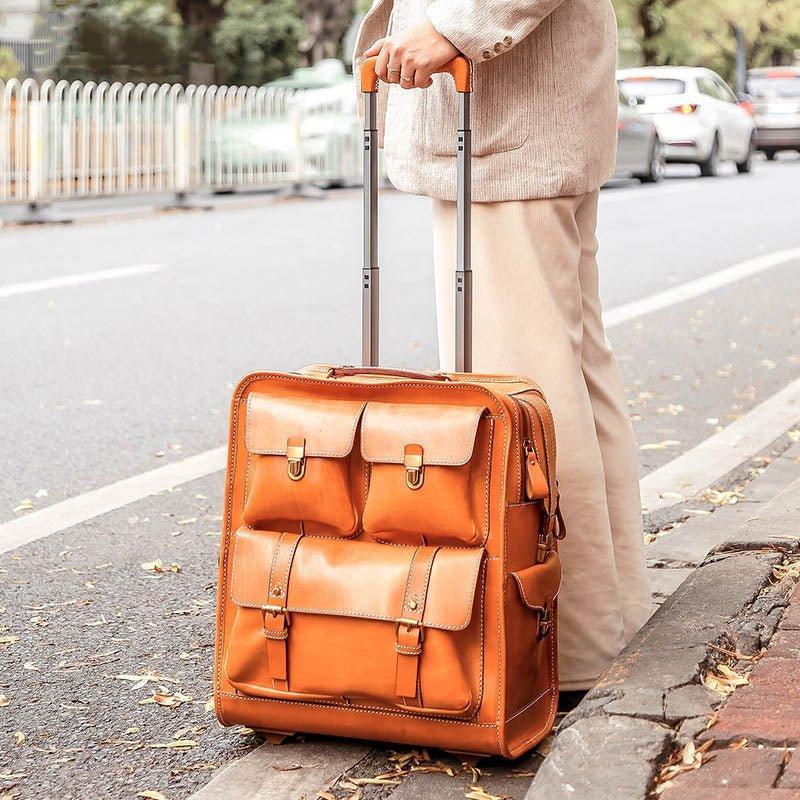 Having the right suitcase can make all the difference when you're traveling. It's important to find one that's the right size for your needs and can hold everything you need without being too heavy to carry. The Woosir Leather Suitcase Collection offers a wide range of sizes and styles to choose from, so you can find the perfect one for your next trip.
Also, the collection features various materials, including hard-sided and soft-sided options. There are also several different colors to choose from, so you can find the perfect match for your style. Whether you're looking for a classic black suitcase or something more colorful, there's sure to be an option perfect for you.
Leather Suitcase Styles
Our leather suitcase collection comes in different sizes, and each size has been designed to accommodate different types of travel. Our Woosir leather suitcases will help you get there in style no matter where your travels take you. The style and options include:
Vintage Leather Suitcase: This type of suitcase is perfect for travelers who want a classic look. The vintage leather suitcase features a timeless design that will never go out of style.
Carry-on Leather Suitcase: You'll need a carry-on suitcase when taking a short trip or if you're planning on carrying your luggage on the plane.
Large Leather Suitcase: A large leather suitcase is perfect for long trips or if you need to pack a lot of stuff. The Woosir large leather suitcase has plenty of room for all your belongings.
Weekender Leather Suitcase: The weekender suitcase is perfect for weekend getaways. It's small enough to carry, but it has enough space for all your essentials.
Wheeled Suitcase: A wheeled suitcase is great for traveling. It's easy to maneuver and perfect for carrying a lot of luggage.
Woosir offers a variety of leather suitcase categories to choose from. No matter what type of traveler you are, we have the perfect suitcase for you. Start browsing today to find the perfect one.
Features Of Our Leather Suitcases
Some of the features of our leather bag and suitcases that you will love include:
Durable: Woosir leather suitcases are made from high-quality materials. They are designed to withstand the rigors of travel and will last for many years.
Elegant And Stylish: Our leather suitcases are available in various styles and colors. They are perfect for any occasion, whether you are traveling for business or pleasure.
Lightweight And Easy To Carry: Woosir leather suitcases are lightweight and easy to carry. They come with comfortable handles and straps, making them easy to transport.
Spacious And Roomy: Our leather suitcases are spacious and roomy. They have plenty of room for all your belongings, making them perfect for long trips.
Secure And Safe: Woosir leather suitcases are equipped with secure locking mechanisms and leather straps. This ensures that your belongings are safe and secure while you travel.
Summing Up
At Woosir, we take pride in offering our customers the best possible products and services. Our leather suitcases are no exception. We offer a wide variety of styles and colors to choose from, so you can find the perfect one for your needs. And our team is always available to answer any questions you may have. Contact us today to learn more about our leather suitcase collection.