Why You Need a Men's Crossbody Sling Bag?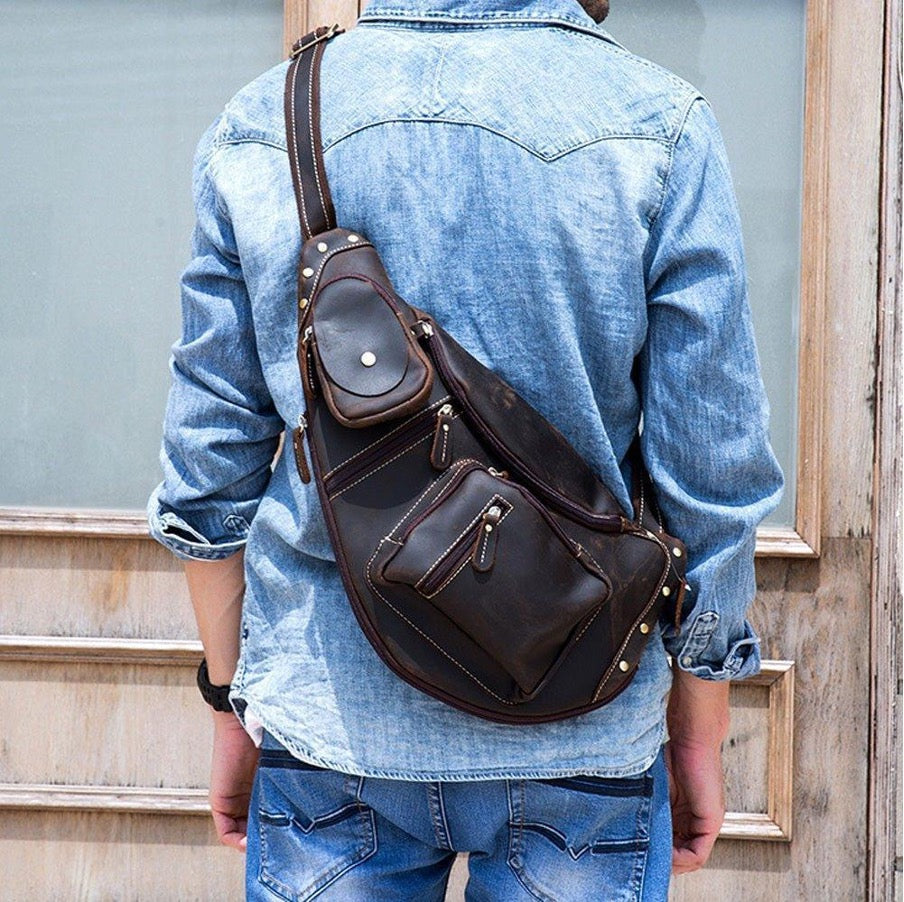 For modern men, comfort and convenience are very important. Busy people do not need to be distracted by various trifles and adapt to the situation. A respectable man should be surrounded by comfortable and stylish things. This also applies to accessories. As handbags take a backseat, leather sling bags with shoulder straps have recently gained men's attention.
It is very convenient to put all the necessary things in a fashionable, beautiful bag and not carry it in your hands. Genuine leather best sling bags are usually available with textile or leather shoulder straps, zipper pockets (zip pocket), mesh pockets, adjustable straps, etc.
Let's know in detail about crossbody sling bags for men to know why you should consider buying a crossbody sling bag. It can be a mountain sling bag made using water-resistant nylon and compression straps, or any other material like leather accents, it is in trend now.
What Does It Mean By Crossbody Bags?
A crossbody sling bag is generally smaller in size and designed more sleekly. Based on the bag, the adjustable strap can easily be adjustable, as well as it may have many hidden additional pockets for quick access.
What makes the crossbody bag a crossbody, because it is the way it's meant to be carried. The longer straps let the wearer set the belt running from your shoulder to your opposite hip and make the bag lay flat against your body with less chance of it dropping off.
These bags are available from functional to casual to black-tie, a proper crossbody sling bag will be the ideal finishing touch on any outfit. These bags are available in many styles that can have mesh pockets, water bottle pockets/water bottle holders, etc. that will help you stay organized. These are completely waterproof.
What To Look For In The Best Crossbody Sling Bag
If you are planning to pick up a crossbody sling bag for yourself or as a gift, there are some essential points to consider when choosing. When you enter an offline or online store like Woosir, your eyes immediately diverge from the abundance of assortment.
So, here are the things you need to consider while buying the best sling bags for men. It does not matter whether it is a messenger bag or any other gear, below are the few things you need to consider.
Lining Quality
It must be strong and dense enough so that it does not accidentally damage the corner of a passport, car keys, Dopp kit, or book. No matter whether it is a renew transit bag or a fanny pack men pay close attention to the lining quality of the bag.
Look At The Seams
Leather is especially thick - the material is durable. And the seams should be tight enough. Ideally, you should choose bags with double-seam stitching to make sure the bag can endure even outdoor adventures.
Check All Fittings
Zippers, locks, and fasteners should open and close without interference, quickly and conveniently. Any decorative elements on the bag must hold tight and not have any damage (scratches, chips, cracks).
Purpose
When choosing the type and size of a product, your needs should come first. The bag should contain all the necessary things. At the same time, the accessory should be comfortable and not too bulky.
If you need a business bag for documents, choose a tablet of the appropriate dimensions. If you carry a minimum of small things, stop at a small mail carrier.
If you need a bag for travel, consider in advance how much you usually take on trips, and choose from roomy travel bags. A sports accessory is also worth looking for in the appropriate category.
Material
Make sure the material you are choosing is strong, durable, and long-lasting. Not all types of leather are the same. There are different types of leather available in the market. Although leather is generally a water-resistant material that can endure light rain not all of them are the same.
However, if you purchase the leather bag from an online store like Woosir sling bags, you are assured to get only the top-quality leather crossbody bag.
Size
The size of the bag matters a lot. However, you need to first make sure for what purpose you are buying messenger bags for men. If you are buying the Bellroy Sling bags for everyday use then make sure it comes with a front pocket/mesh pocket for easy access, and space for a small water bottle, the main compartment must have enough room inside to keep your cell phone, laptop, wallet, etc. your daily commutes
However, if you are planning to use it for your day hikes then get a slightly bigger one to make sure it can hold slightly bulkier items, water bottles, etc.
Style Details
Style details of a sling bag are a must to check before you buy. For example, the sling bag should be designed or styled in a manner so that you can easily carry them. Moreover, it will be great if the crossbody sling bag comes with padded shoulder straps.
These will make carrying your essentials inside your sling bag easier than ever. Moreover, if the crossbody sling bag comes with an extra buckle to attach the bag to your jacket, it will be more efficient for you to carry heavy objects.
Also, see if you have to wear them as a backpack or if you need to carry them on your chest. All these will make the purchase far more convenient for you to understand the product better and will also help you decide whether or not to buy the bag.
When choosing large-format men's bags, pay attention to the width of the shoulder strap - it depends on whether the carrying of the bag will be comfortable. The larger and heavier the bag, the wider the strap should be. This allows you to reduce pressure on the muscles of the shoulder.
Price
Once you've decided on a style, consider how much you're willing to spend on a bag. The price will limit the range of brands, materials, and finishes, but not too much because in each price category you will find many solutions of different designs.
Functional and neatly executed Woosir leather sling bags made of genuine leather are classic solutions for the middle-price segment. The vast majority of models have a leather shoulder strap so that you can grab the bag easily.
Why Buy a Men's Crossbody Sling Bag?
Men's shoulder bag is both a fashion trend and a convenient solution for every day. This model is good during work, study, leisure, and vacation trips. Therefore, the right bag choice is important in terms of comfort and image.
Today, the world's leading brands produce sling bags for men in all colors, sizes, and styles. But, if we turn to the origins, then the prototypes of such models are functional and reliable mail bags, as well as soldier's tablets. These simple samples create an association of a bag of this design with manifestations of courage, practicality, and purposefulness.
A modern man simply needs a sling bag, because all the little things like a mobile phone, tablet, wallet, napkins, keys, etc. you need to put somewhere, and not put in your pockets. In addition, the bag perfectly complements any image, emphasizing the individuality of its owner.
BOTTOM LINE
Ultimately, you can't go incorrect with a crossbody sling bag. They're fashionable, functional, and also adaptable; crossbody sling bags have everything that a person requires in a purse!
However, if you are worried about whether you should buy the best crossbody sling bags then you should visit the
Woosir
 site to get several styles, designs, colors, etc.