Vintage Canvas Backpack Or Shoulder Bag: Which Is Better?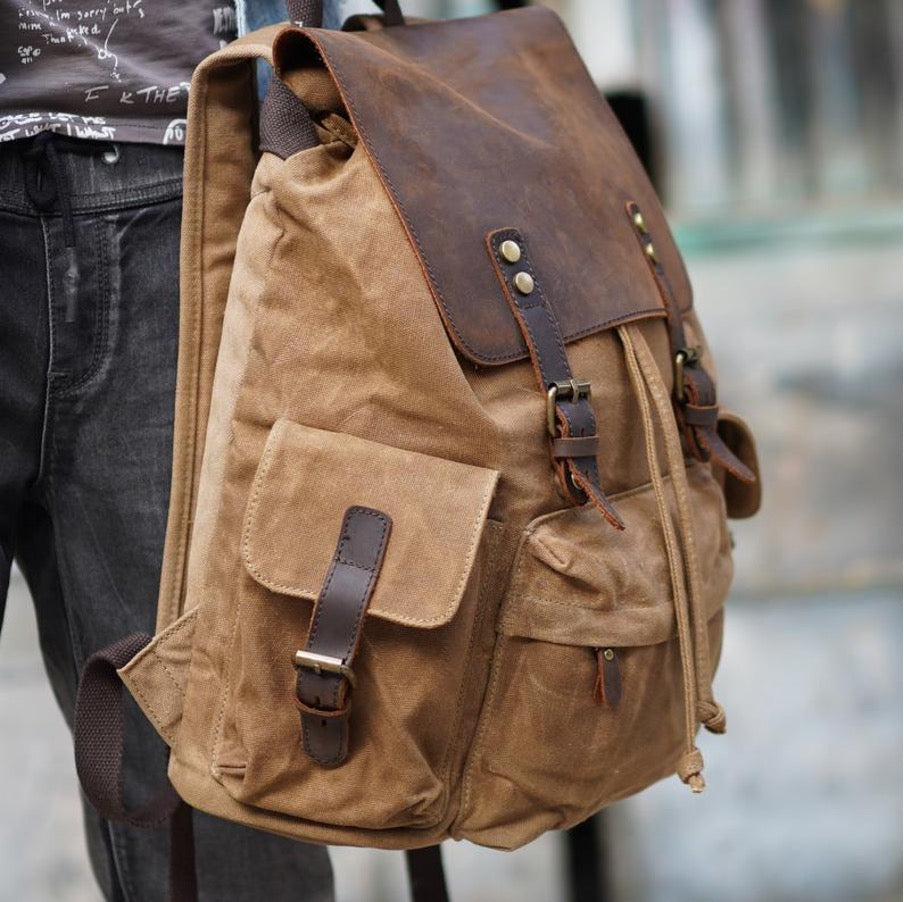 By all accounts, waxed canvas backpacks are more associated with sports and tourism, and men's shoulder bags are considered an accessory suitable mainly for classic looks. In fact, in many cases, you can choose both a vintage backpack and a shoulder bag.
Before making a decision: on a vintage canvas backpack or a shoulder bag, check out the various offers and take into account both practical considerations and your habits.
Both types come with visually appealing colors, cutting-edge designs, multiple pockets, and other accessories to take into account before deciding on which one is better for you. Moreover, we will guide you to where you can buy the best canvas backpack, school bag, travel bag, or shoulder bag.
Vintage Canvas Backpack?
The vintage canvas backpack is the best option for dynamic people with a sporty lifestyle. If you're constantly on the move, checking your guide during your trip, taking photos on Instagram, or checking route details on GPS - choose a comfortable canvas backpack that keeps your hands free.
For long-distance routes, it is best to take a capacious sports backpack made of durable material, for shorter routes (for example, walks on the sea), a smaller model is enough. For cycling trips, a specially designed one-shoulder backpack, such as universal black, will come in handy.
Vintage Canvas Shoulder Bag
Shoulder bags are best suited when traveling by plane when they can act as roomy hand luggage located in the trunk. They are also preferred by people who care about an aesthetic, neat appearance. A shoulder bag is an indispensable element of style on a business trip.
It is safer to put a laptop or other electronic equipment in this type of luggage. Shoulder bags are definitely more convenient when you travel by car - you can put them on the back seat, for example. The travel bag will inspire you to travel and will also be useful for training every day.
Vintage Canvas Backpack VS Shoulder Bag
The shoulder bag puts pressure on one shoulder, the shoulder drops, the back curves, and the muscles tighten. You can, of course, constantly move the strap from one shoulder to another, but in reality, few people remember such measures.
Carrying the shoulder bag all the time can also cause migraines due to pressure on the trapezius muscle, which is located in the upper back and back of the neck. If you carry a heavy bag with a thin strap, blood vessels will be pinched.
On the other hand, when wearing a backpack, the load on the shoulders is distributed evenly and no curvature occurs. The straps of the backpack must be wide (if you are going to carry something heavy in it), then they will not pinch the blood vessels.
It is recommended to wear a vintage canvas backpack so that it is located slightly below the shoulders and up to the waistline. The weight of a backpack with things, according to the advice of doctors, should not exceed 10% of your weight.
Practical Considerations
If you need a really large capacity, a vintage backpack is definitely a more practical solution. Do you need something small? In this case, choose a comfortable shoulder bag. As with vintage canvas backpacks and men's shoulder bags, men usually choose a medium size that will fit a laptop and a number of other necessary items.
Weight Distribution
In a canvas backpack, the weight is distributed evenly and does not burden one side of the body more. Therefore, the canvas backpack will be a more convenient solution for very active people who spend a lot of time traveling or have back problems.
The men's shoulder bag, on the other hand, is a more classic solution combined with an official style. However, this does not mean that it is suitable only for a suit.
Be Hands-Free
With a backpack, your hands are always free, and the position is more stable. If you still choose in favor of a bag, you need to change the hand in which you carry it, or move the strap to the other shoulder every 7-10 minutes. Try not to carry heavy bags: if you need to carry a lot of things, some of them can be transferred to a bag, and the bag can be taken in hand. The optimal weight of the bag is no more than 2 kilograms.
Wear Resistance
Since a vintage canvas backpack gets even weight distribution, these last longer than shoulder bags. In your shoulder bags, the entire weight is on a single strap, thus, there is more pressure of weight on your shoulder bags. That is why vintage canvas backpacks last longer than shoulder bags.
Protection
When it comes to security the vintage canvas backpack wins the game. Since in backpacks there are many pockets available including the anti-theft pocket, it offers more security.
Space
A vintage canvas backpack comes with way more space than your shoulder bags. A shoulder bag is generally the main compartment and a few pockets to store little objects. On the other hand, a backpack has several pockets, and plenty of space to carry more or less everything you need.
Whether it is your water bottle or your laptop, you can pack more or less everything in it. Moreover, backpacks are generally made using water-resistant material that allows you to carry the back in any weather condition.
Reliability
The backpack securely stores all supplies in good condition, unlike a shoulder bag. A rigid or solid frame is optimal so that all your belongings are not damaged. And if the backpack is made using vintage canvas then simply forget about worrying about the reliability of the bag.
Shoulder Bag, Backpack, And Your Health
If a person regularly goes in for sports or yoga and has a developed shoulder girdle, he can afford to carry both a vintage canvas backpack and a shoulder bag - neither one nor the other will hurt such a person.
However, if not enough attention is paid to physical exercises, carrying a shoulder bag can have a very negative effect on the spine. Unfortunately, most modern people do not exercise regularly.
When Should You Buy Vintage Canvas Backpacks?
A backpack is a bag on the back with two straps. For the first time, the model was used by the military, so that they were not constrained in their movements and could take with them everything necessary for survival.
Therefore, the backpack has long been associated with hiking and sports equipment. But times have changed, now this type of bag has become an everyday accessory. Moreover, it is no longer an attribute of sports style. The backpack can be worn with dresses, skirts, and suits.
Tip:
When buying, pay attention to the material. Vintage Canvas is suitable for a more rigorous style, and other material backpacks are for casual.
When Should You Buy A Shoulder Bag?
If a backpack is a practical solution, then a shoulder bag can become a real decoration of the image. Among the shoulder bags, you can find many models and shapes that will emphasize your individuality. They are still indispensable for business style, the classic frame bag is ideal for a suit.
BOTTOM LINE
Usually, after returning from a hike, novice tourists realize that a backpack is not such a terrible thing. Some even begin to think about whether to start wearing vintage backpacks instead of shoulder bags in everyday life. What is more convenient and useful? The answer is clear: a vintage cotton canvas backpack.
It can be a canvas laptop backpack, canvas rucksack backpack, unisex backpack, or vintage-style messenger bag, everything is available on the Woosir site. Woosir delivers genuine leather trim unisex backpacks, messenger bags, and travel backpacks, that go perfectly with both urban and natural environments.
The wide range of Woosir Vintage Backpacks includes both very elegant men's shoulder bags made of high-quality genuine leather and more casual models for laptops. A vintage canvas backpack, on the other hand, will not necessarily be combined with a free, urban style. A well-chosen vintage canvas backpack will suit the smart casual style and even a work suit.