Top 5 Back to School Backpacks 2023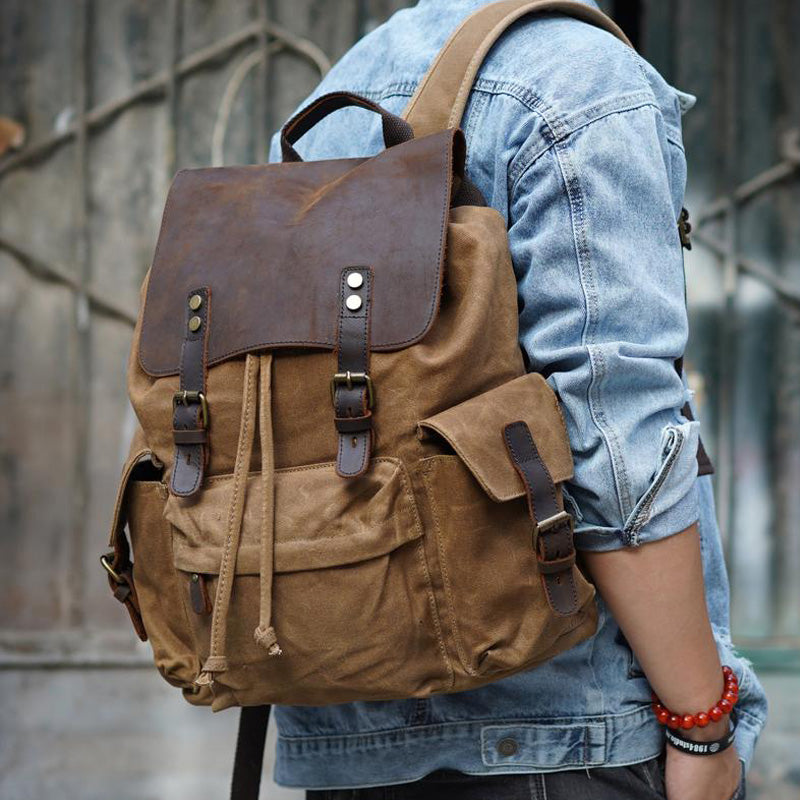 The kids will soon get ready for another back-to school season. This could be their last year at college or high school.

No matter what grade they are in, backpacks must be durable and can withstand a lot. Woosir knows what high school college is like. We know that everyone wants to be stylish and trendy.
We take pride in crafting fashionable, high-quality backpacks that high school students will love to use. Woosir school backpacks are built for durability and will make you stylish.
We value your style and quality, so we've gathered the Woosir Top Five School Backpacks for 2023.
This backpack is the latest addition to the Woosir backpack collection. The backpack's fashion-forward design allows you to transport a laptop. It even has a separate laptop compartment. You can choose from a range of colors including black, green, or khaki.
Cotton canvas is used to make the bag durable and stable. It is also easy to clean. The bag has contrasting leather accents and a canvas surface. These accents include two sets of leather buckles that close the main compartment and one set that closes the front flap.
The bag is 19 inches high, 12 inches long, and 6.5 inches wide overall. The backpack will be useful long after the 2023 school years are over. Your student will love to take it with them on outings and to school.
Canvas is durable and easy-to-clean, making it a great choice for backpacks. The vintage backpack will be a hit with high school students. It is fashionable and practical. Your child will be able to access the supplies they need during school with ease.
You will find one large pocket on the front and one on each side. These pockets can be closed using quick snaps. This bag can be used in any gender and is available in black, brown or green as well as grey or khaki. The interior of the bag has two wall pockets. One is for your cell phone, and one for your credential.
The overall dimensions of the room are 18.5 inches long, 10 inches wide, and 11 inches high. There will be plenty of space to store all your books, laptops, and folders.
This khaki backpack can hold a 15.6-inch laptop. The backpack has a separate compartment that protects your laptop while you travel. The khaki is a striking color. But the contrast brown leather accents make it even more noticeable.
The bag has a zipper pocket in front and two pockets on the sides. The bag can be adjusted with the adjustable straps. You can access the main compartment with ease by closing the bag using buckled quick snaps.
The backpack's overall dimensions are 17 inches high, 13 inches long, and 5 inches wide. Two zipper pockets and two wall pockets for credential storage are included inside.
This backpack, made from canvas, is stylish and practical. It is fast becoming a fashion-forward trendetter among students.
The Classic Leather Rucksack can be used by both men and women. It has plenty of space to hold all your essentials. The bag has a large pocket on both sides and one at the front. These pockets are ideal for quick access items like pens, calculators and erasers.
The zipper pocket in the interior is ideal for small items that you don't want lost amongst all the rest of your bag. Because a school backpack is likely to be used on many surfaces, the rucksack has an easy-to-clean design.
Adjustable straps allow the bag to be adapted to all body types. The main compartment has plenty of space for a large laptop and other items such as binders, folders or books. Bag dimensions are 10 inches long, 14 inches high, and 6 inches wide.
This rucksack has been designed for durability and functionality. There are many organizational options available for the bag. The bag's exterior features a large storage compartment that can be closed using quick magnetic snap buckles. These are attached to contrasting-colored leather strips.
The bag features a quick snap buckle closure on one side and a pocket on the other. Zip, wall and cell phone pockets are all found inside. This bag is versatile and gender-friendly. This bag is trendy and will be loved by students as well as their friends.
The bag is available in black or brown and has adjustable shoulder straps. The dimensions of this rucksack measure 14 inches long, 7.7 inches wide, and 18 inches high. The bag has ample space for books, laptops, folders and other items.
This bag is made of canvas with contrasting leather accents.
Woosir allows you to shop with confidence knowing that you're buying a backpack that is functional, durable, fashionable, and stylish. These are the 5 best backpacks for the school year 2023.