Top 4 Waxed Canvas Sling Bags for Adventure Seekers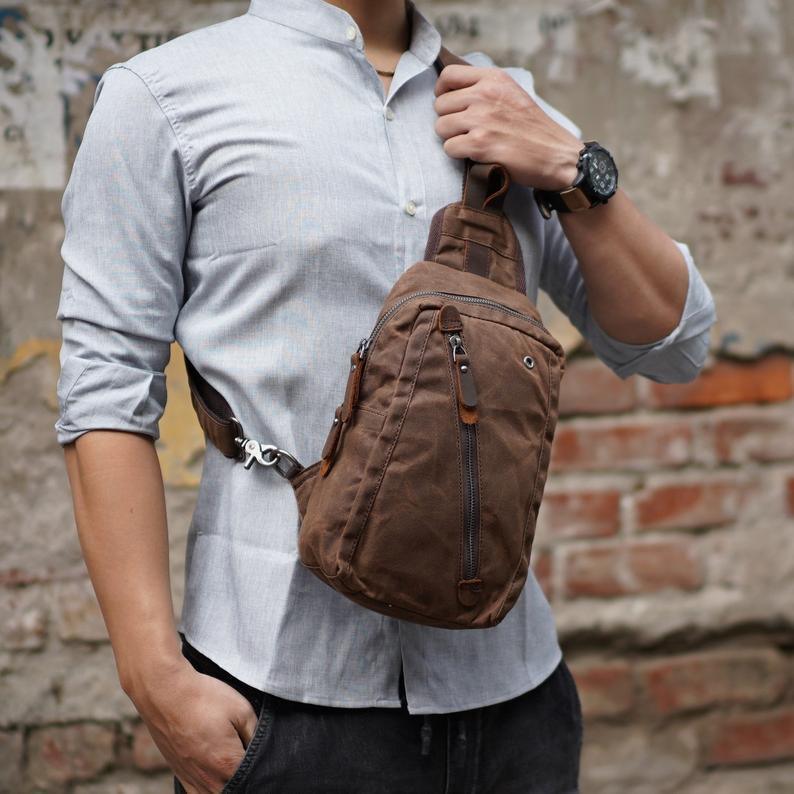 Introduction
Sling bags have become increasingly popular among adventure seekers, offering a convenient and stylish way to carry essentials while keeping hands free for exploration. Among the various sling bag options available, waxed canvas sling bags stand out for their durability, weather resistance, and timeless appeal. Whether you're embarking on a thrilling hiking adventure or simply navigating the urban jungle, a waxed canvas sling bag is a reliable companion. In this article, we present the top 10 waxed canvas sling bags for adventure seekers, highlighting their features, benefits, and unique selling points.

Woosir Vintage Waxed Canvas Mens Crossbody Bag
The Woosir Vintage Waxed Canvas Mens Crossbody Bag is a stylish and functional accessory designed to elevate your daily adventures. With its rugged yet refined design, this crossbody bag combines durability and versatility, making it the perfect companion for outdoor excursions, travel, and everyday use.

Crafted from premium quality waxed canvas, this crossbody bag is built to withstand the rigors of your active lifestyle. The waxed canvas material offers excellent water resistance, ensuring your belongings stay safe and dry even in unpredictable weather conditions. The reinforced stitching and sturdy hardware further enhance the bag's durability, ensuring it will withstand the test of time.

Woosir Sling Backpack Mens Waxed Canvas Crossbody Bag
Featuring multiple compartments and pockets, this crossbody bag provides ample space to keep your essentials organized and easily accessible. The main compartment offers room for larger items such as a tablet or a small laptop, while the front and side pockets are perfect for storing your smartphone, keys, wallet, and other small items. The adjustable shoulder strap allows you to find the perfect fit and ensures comfortable carrying throughout the day.

Woosir Waxed Canvas Crossbody Bag
The Woosir Waxed Canvas Crossbody Bag effortlessly combines classic vintage aesthetics with modern functionality. The waxed canvas material not only offers durability but also adds a touch of timeless charm to your overall look. Whether you're exploring the city streets or heading to a casual meeting, this crossbody bag will complement your style and elevate your fashion game.

Woosir Waxed Canvas Cross Body Sling Bag for Sports
Designed with the modern gentleman in mind, this crossbody bag strikes the perfect balance between practicality and style. It exudes an air of sophistication while providing the functionality you need in your daily life. Whether you're a student, a professional, or an avid traveler, this crossbody bag will effortlessly complement your lifestyle and enhance your overall look.
Conclusion
As you consider the perfect waxed canvas sling bag for your adventures, there are a few factors worth considering. The size and capacity should accommodate your essential items without being too bulky or cumbersome. Look for a sling bag with well-designed compartments and pockets to keep your belongings organized and easily accessible. Adjustable straps and ergonomic design are essential for comfort during extended wear. Additional features such as water bottle holders or hidden pockets can add extra functionality to your sling bag.

To ensure the longevity and performance of your waxed canvas sling bag, proper care is crucial. Cleaning it regularly with a soft brush or cloth will remove dirt and maintain its appearance. If necessary, spot clean with mild soap and water, and allow it to air dry naturally. Avoid using harsh chemicals or machine washing, as they can damage the waxed canvas. Proper storage when not in use will help preserve its quality and shape.

In conclusion, waxed canvas sling bags offer adventure seekers a blend of style, functionality, and durability. Their weather resistance and timeless appeal make them an excellent choice for various outdoor activities and everyday use. By choosing the right waxed canvas sling bag that suits your needs and preferences, you can embark on your adventures with confidence and style.