Top 10 Men's Leather Laptop Bags of 2024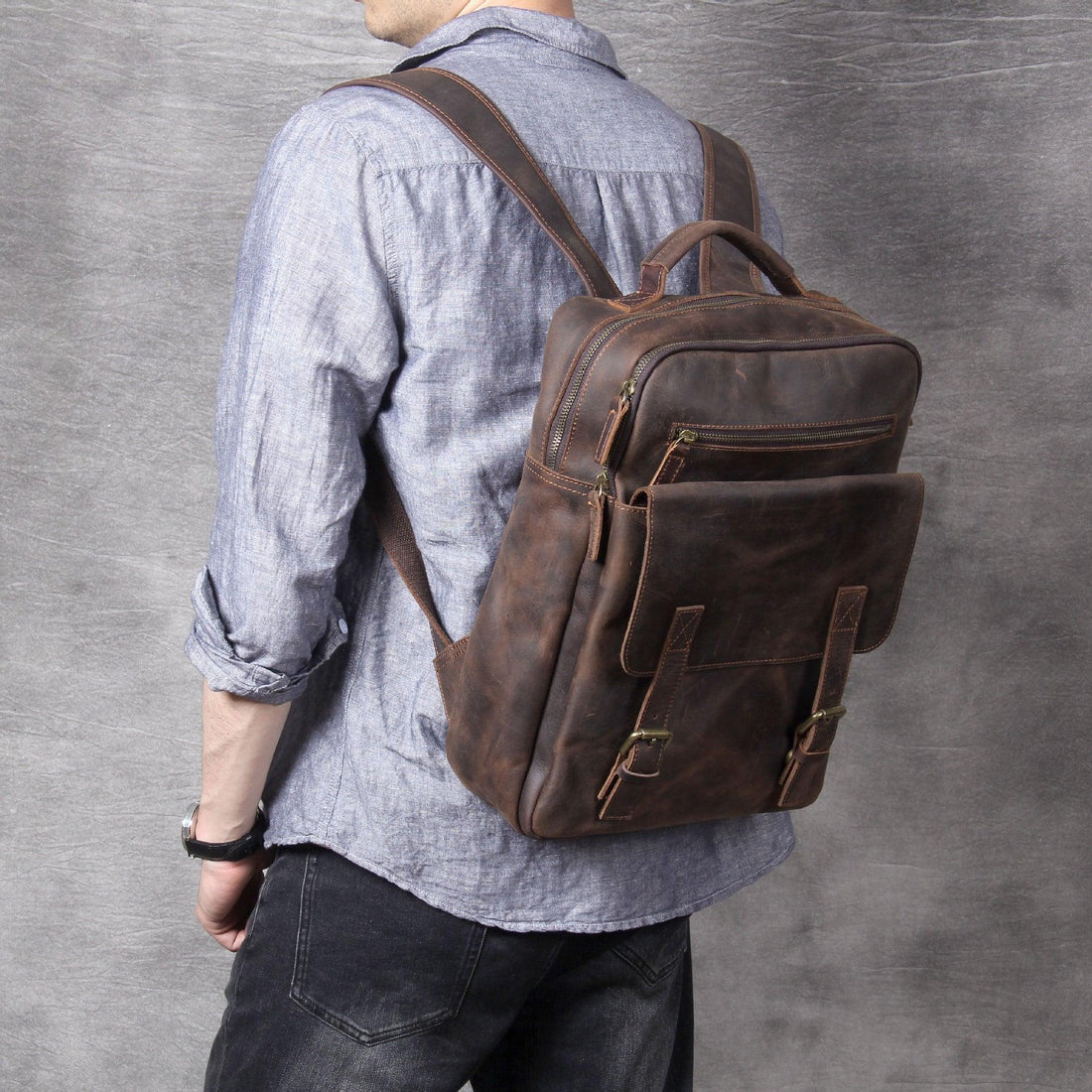 Introduction
Welcome to the ultimate rundown of the Top 10 Men's Leather Laptop Bags of 2024. If you're on the hunt for a laptop bag that doesn't just carry your tech gear but also adds a touch of class to your daily grind, you've come to the right place. We've scoured the market, sifted through the haystack, and are here to present you with the needle - the very best leather laptop bags that'll make you the envy of the office, the coffee shop, or wherever you choose to strut your stuff.

So, what's the buzz about these bags? Let's dive in with some snazzy subheadings.


Along with the laptop compartment, the Woosir briefcase boasts multiple pockets and compartments for your daily essentials. From documents to chargers, you'll find a place for everything. Rugged meets refined in this piece of leather perfection. With its spacious compartments, it can handle your laptop, tablet, and more.
Ideal for the corporate warrior who needs to make an impression.



Our Men's Leather Backpack Vintage For Laptop is the epitome of timeless elegance. This classic piece seamlessly combines style and functionality, making it the perfect choice for the modern man on the go. The dedicated laptop compartment is tailored to fit your device snugly. Say goodbye to worrying about scratches and dings on your laptop. For those who believe less is more. A sleek, compact design that's deceptively roomy inside. Perfect for the urban explorer who wants style without the bulk.



A blast from the past, with a modern twist. Multiple pockets and a weathered look that exudes charm. Great for those who appreciate the classics with a dash of contemporary.
Introducing our Vintage Casual Canvas Laptop Backpack, the perfect blend of timeless style and modern convenience. This backpack is designed to elevate your daily adventures while offering a practical solution for carrying your laptop and essentials.
Our Wax Canvas Vintage Backpack is designed to be a versatile companion for various lifestyles. Whether you're a student, professional, or an adventure enthusiast, this backpack adapts to your needs.Adventure-ready and always up for a journey. Versatile, with a separate laptop compartment. If you're a globetrotter, this is your ticket to style and practicality.


The backpack features a dedicated laptop compartment that can accommodate most laptops, ensuring your tech gear stays secure and protected. Designed for the urban jungle. Compact yet capacious, it's perfect for city life. A fusion of style and substance for the cosmopolitan man.


Elevate your fashion game while keeping your tech in check.We've designed this backpack with the modern professional in mind. It features dedicated compartments for your laptop, documents, and essentials, keeping you organized and efficient. Chic and functional, ideal for the fashion-conscious. If you're a man about town, this tote's got your back.


Unconventional, just like you. A trendy, crossbody design for a hands-free approach. For those who live life on their own terms. The backpack features a dedicated laptop compartment, designed to keep your tech gear safe during travel or at school.


Academic or not, this bag exudes intellect. Timeless style with a modern twist. Perfect for those who appreciate the sophistication of a satchel. The thoughtfully designed magnetic closure adds an extra layer of security, keeping your MacBook Pro safe when not in use. And when you're ready to work, the case folds back seamlessly, allowing you to access your device in a flash.


Rugged and ready for anything. Designed for the active lifestyle with a tech-savvy twist. Your perfect companion for both the trail and the boardroom. This backpack features a dedicated 14-inch laptop compartment, ensuring your tech gear stays safe during your daily commute, travels, or outdoor escapades.


Embrace your creative spirit with this artsy tote. A spacious canvas for your laptop and artistic tools. Ideal for the artist or the free spirit in you. Crafted with an eye for style, this leather backpack adds a touch of sophistication to your everyday look. It's not just a bag; it's a fashion accessory that enhances your personal style.
Frequently Asked Questions
Q: "What makes a leather laptop bag special?"
A: Leather laptop bags are special because they blend style and functionality seamlessly. They not only protect your tech gear but also make a fashion statement.

Q: "How do I choose the right leather laptop bag?"
A: To choose the right leather laptop bag, consider your lifestyle, the size of your laptop, and your personal style. Look for durability, organization features, and comfort.

Q: "Are these bags budget-friendly?"
A: While these bags vary in price, we've included options to fit different budgets. Quality and style often come at a cost, but you can find something that suits your pocket.

Q: "Do leather laptop bags require special care?"
A: Leather bags do need some care to maintain their luster. Regularly clean and condition your bag, and protect it from extreme weather conditions.


Conclusion
So, there you have it, the cream of the crop - the Top 10 Men's Leather Laptop Bags of 2024. These leather wonders aren't just bags; they're a reflection of your style, personality, and practical needs. Whether you're a corporate executive, a free-spirited artist, or an adventurer at heart, there's a bag that'll not only carry your tech but also elevate your presence in any room.

Now, you're armed with the knowledge to pick the perfect companion for your laptop. Go ahead, make a statement, and let your bag do the talking. The Top 10 Men's Leather Laptop Bags of 2024 are more than just accessories; they're a part of your identity, your story. So, which one will you choose to be a part of your journey? The choice is yours, partner.