Top 10 Hiking Backpacks for Multi-Day Adventures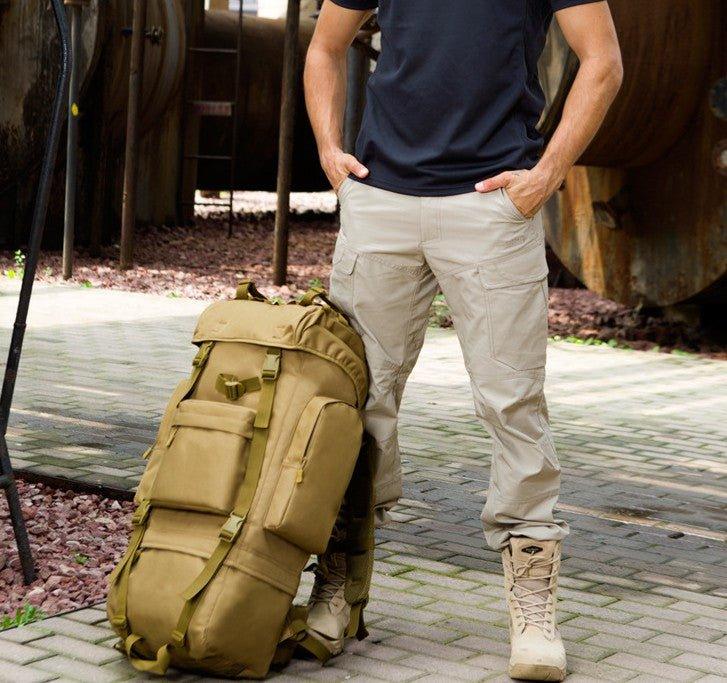 Introduction
Embarking on a multi-day hiking adventure requires careful planning and the right gear. Among the essential gear, a reliable hiking backpack tops the list. The ideal backpack should offer comfort, support, and enough space to carry your essentials. In this guide, we present the top 10 hiking backpacks for multi-day adventures, ensuring you have a comfortable and enjoyable journey.
Top 10 Hiking Backpacks for Multi-Day Adventures
When it comes to multi-day hiking, having the right backpack can significantly impact your experience. A well-chosen backpack ensures that you can carry all your gear with ease while maintaining comfort during extended treks. In this section, we present our carefully curated list of the top 10 hiking backpacks that excel in functionality, durability, and comfort.

80L Hiking Backpack with Rain Cover
The 80L Hiking Backpack with Rain Cover is your ultimate companion for all your exhilarating journeys. Unleash the wanderlust within you as you set forth on breathtaking trails, knowing you have a reliable and spacious backpack to carry all your essentials.

50L Molle Backpack Duffle Bag 60L
Crafted with precision and designed for explorers, this 60L hiking backpack exudes durability and functionality. Whether you're embarking on a multi-day trek or a remote wilderness escapade, this backpack can handle it all. With its ample capacity, you can pack everything you need, from clothes and food to camping gear and gadgets, without compromising on comfort or space.

50L Survival Backpack Molle Rucksack
The 50L Hiking Backpack comes equipped with a rain cover, providing excellent protection for your belongings during unexpected downpours. Stay dry and confident, knowing your gear remains safe from the elements, allowing you to embrace nature in all its splendor.

Multifunctional Canvas Molle Backpack Duffle Bag
This hiking backpack features an ergonomic design that distributes the weight evenly across your shoulders and hips, allowing for a more balanced and comfortable load-carrying experience. Enjoy the freedom of movement as you navigate through challenging terrains effortlessly.

Woosir 90L Camping Backpack Molle Duffle Bag
The breathable mesh design allows air to circulate freely between your back and the backpack, keeping you cool and sweat-free even during intense hikes. Say goodbye to sticky and sweaty backs, and welcome the fresh air that keeps you energized throughout your adventure.

Molle Camping Rucksack Backpack
The Molle Camping Rucksack Backpack comes with adjustable shoulder straps and padded hip belts, ensuring a tailored fit that conforms to your body shape. Revel in the luxurious cushioning that enhances comfort and minimizes pressure points during long journeys.

Large Travel Backpack 40L Hiking Camping Bag 50L
Stay organized and have easy access to your gear with the multi-compartment design of this Large Travel Backpack 40L Hiking Camping Bag 50L. Separate your essentials and find what you need quickly without having to dig through a jumble of items. The thoughtful organization enables you to maximize your time outdoors, focusing on what truly matters – the thrill of the expedition.

Large Capacity Molle Backpack 100L
Stay hydrated throughout your adventure with the hydration-compatible feature of this hiking backpack. With a dedicated space for your water reservoir, you can quench your thirst without having to pause your journey. Stay refreshed and energized as you revel in the natural wonders surrounding you.

Large Waxed Canvas Hiking Backpack Rucksack Mens
Crafted from high-quality materials, this backpack is built to withstand the harshest outdoor conditions. From rugged terrains to unpredictable weather, rest assured that your 80L Hiking Backpack will stand the test of time, supporting you on countless exhilarating escapades.

130L Large Mountaineering Backpack
The 130L Large Mountaineering Backpack is your trusted companion for conquering the most challenging peaks. Take on the world's highest summits with unwavering confidence, knowing you have a reliable and spacious backpack to carry all your mountaineering essentials.
Factors to Consider When Choosing a Hiking Backpack
Selecting the perfect hiking backpack involves considering various factors, such as capacity, fit, features, and durability. Before making your final decision, take the following aspects into account:
Capacity
The capacity of the backpack determines how much gear you can carry. For multi-day adventures, aim for a capacity between 60 to 75 liters to accommodate your clothing, food, and camping equipment.
Fit
A well-fitted backpack is crucial for comfort during long hikes. Look for adjustable shoulder straps, hip belts, and torso lengths to achieve the perfect fit.
Features
Consider the features that enhance your hiking experience, such as hydration compatibility, gear loops, and multiple compartments for organization.
Weight
Choose a backpack with a balanced weight to ensure optimal weight distribution and prevent strain on your back and shoulders.
Material and Durability
Look for high-quality materials that can withstand the rigors of outdoor use and protect your gear from the elements.
Ventilation
Proper ventilation in the back panel and shoulder straps is essential to prevent sweating and discomfort during warm-weather hikes.
Conclusion
Choosing the right hiking backpack is crucial for a successful and enjoyable multi-day adventure. The top 10 hiking backpacks featured in this guide offer durability, comfort, and ample storage space to meet the demands of extended treks. Consider your specific needs and preferences, and find the perfect backpack that will accompany you on memorable outdoor expeditions.