Top 10 Canvas Messenger Bags for Everyday Use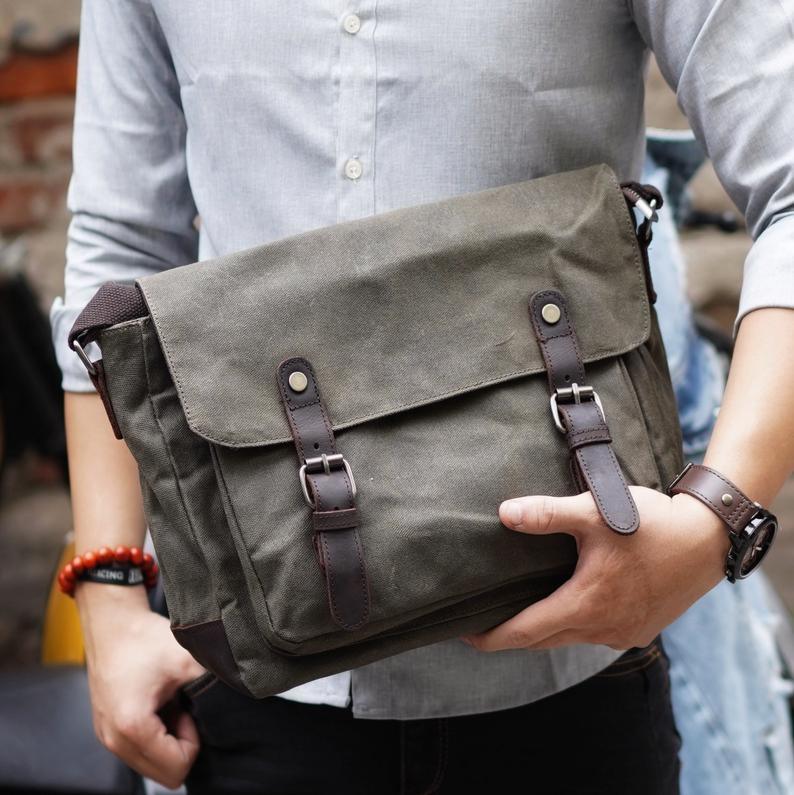 Introduction
Canvas messenger bags are versatile, stylish, and practical accessories that have become a must-have for people on the go. Whether you're a student, a professional, or simply someone who enjoys a laid-back yet trendy style, canvas messenger bags are the perfect choice. In this article, we will explore the top 10 canvas messenger bags for everyday use, combining fashion with functionality to help you make an informed choice.
1. Mens Waterproof Canvas Messenger Bag For 14 Inch Laptop

The classic canvas messenger bag offers a timeless design with a focus on durability. Its spacious compartments and comfortable straps make it perfect for everyday use, from work to casual outings. Crafted to cater to the modern man on the move, this bag is your ideal companion for both work and adventure. Made with premium waterproof canvas, it's built to withstand the elements and keep your essentials safe and dry. Whether you're conquering the urban jungle or hiking a mountain trail, this bag's rugged durability ensures you're always ready for the next adventure.
2. Canvas Mens Messenger Bag Crossbody

This bag combines the ruggedness of canvas with the elegance of leather. It's an excellent choice for those who appreciate a vintage look and feel while maintaining practicality. Canvas messenger bags are known for their practicality and are often used for carrying items such as laptops, books, documents, and personal accessories. They typically have multiple pockets and compartments to help keep things organized. The crossbody design allows for easy access to the bag's contents while keeping your hands free, making it a convenient choice for commuters, students, or anyone on the go. These bags are often chosen for their casual, rugged style and are a popular choice for those who appreciate a more relaxed and informal look.
3. Canvas Vintage Messenger Bag Mens Motobags

For eco-conscious individuals, an eco-friendly canvas messenger bag made from recycled materials is the way to go. These bags are not only stylish but also contribute to a sustainable lifestyle. The adjustable shoulder strap allows for a comfortable and customized fit, whether you're cycling through the city streets or strolling through a bustling market. The secure buckle closures offer peace of mind, keeping your belongings safe and sound on the go. This Canvas Vintage Messenger Bag is not just a practical accessory; it's a statement piece that complements your individual style and tells your unique story. It's a nod to the past, a nod to authenticity, and a nod to your love for adventure.
4. Vintage Waxed Canvas Crossbody Messenger Bag Smal

With dedicated compartments for laptops and gadgets, the Vintage Waxed Canvas Crossbody Messenger Bag ensures that you can carry your devices safely and stay connected wherever you are. Crafted from rugged waxed canvas, this bag exudes a vintage charm that only gets better with time. The waxed canvas material not only offers a unique, weathered appearance but also provides excellent water resistance, ensuring your belongings stay safe and dry in various conditions. The crossbody design adds a touch of practicality to your daily life. Its adjustable strap allows you to wear it comfortably over your shoulder or across your body, keeping your hands free for other activities. Whether you're commuting to work, running errands, or exploring the city, this bag is your ideal companion.


5. Small Canvas Messenger Bag Crossbody Vintage
When you're on the move, a canvas messenger bag designed for travel is a reliable companion. It offers security, comfort, and style for globetrotters. Crafted with a meticulous attention to detail, this bag seamlessly blends fashion and function to meet your daily needs. Our messenger bag exudes a timeless charm with its rugged canvas material and distressed leather accents. The earthy tones and aged finish give it an authentic vintage appearance. Designed for on-the-go individuals, this bag is just the right size to carry your essentials without feeling bulky. It features a spacious main compartment with interior pockets, ensuring you have ample room for your wallet, phone, keys, and more.
6. Small Messenger Bag Waxed Canvas Mens

Designed with students in mind, these bags have ample space for books and notebooks, along with multiple pockets to keep all your essentials organized. Made from durable waxed canvas, this bag is built to withstand the test of time. The waxed canvas not only adds a rustic touch but also provides excellent water resistance, making it ideal for all-weather use. Whether you're commuting to the office, going on a weekend adventure, or just need a compact bag for your essentials, this messenger bag has you covered. The compact size of the bag makes it easy to carry while still offering ample storage space. The main compartment is spacious enough to hold a tablet, books, or other daily essentials, while the exterior pockets help keep your smaller items organized and within easy reach. The adjustable shoulder strap ensures a comfortable fit, allowing you to wear it as a crossbody or over your shoulder.
7. Laptop Waxed Canvas Messenger Bag Mens

For cyclists, a messenger bag that sits snugly on your back is essential. Look for one with adjustable straps and quick access pockets for a hassle-free ride. Constructed from durable and water-resistant waxed canvas, this messenger bag not only exudes a timeless charm but also offers excellent protection for your laptop and belongings, even in unpredictable weather conditions. The waxed canvas material ages beautifully, developing a unique patina over time that tells the story of your adventures. The spacious main compartment is large enough to accommodate most laptops, providing a secure and padded space to keep your device safe during your daily commute or travels. Multiple interior and exterior pockets offer ample room for organizing your essentials, from notebooks and pens to chargers and personal items.
8. Vintage Messenger Bag Canvas Crossbody For Men

Artists need space for their tools, and a canvas messenger bag designed for artists provides just that. It's perfect for carrying sketchbooks, paints, and brushes. Crafted from durable canvas material, this vintage-inspired messenger bag exudes a rugged charm that's perfect for the modern man. Whether you're heading to work, school, or a casual outing, this crossbody bag is the ideal companion. The classic design of this messenger bag adds a touch of retro style to your everyday look. It's a versatile accessory that complements both casual and semi-formal outfits. The bag is constructed from high-quality canvas material, known for its strength and resilience. It can handle the demands of daily use and is built to last. Designed with a comfortable crossbody strap, it evenly distributes the weight of your essentials, making it easy to carry all day long.
9. Waxed Canvas Messenger Bag Small

Moms on the move require a bag that combines style and functionality. Look for one with compartments for baby essentials and a touch of elegance. A small waxed canvas messenger bag is a practical and stylish accessory for carrying your essentials. Waxed canvas is a durable and water-resistant material, making it an excellent choice for a bag that can withstand the elements while maintaining a classic and rugged look. Designed to hold your everyday items, such as a tablet, a book, a wallet, keys, and other small personal belongings. A comfortable and adjustable shoulder strap that allows you to wear the bag across your body or over your shoulder. A flap with secure closures, such as buckles or magnetic snaps, to keep your items safe. Multiple pockets, both inside and outside the bag, for organizing and separating your belongings.
10. Crossbody Canvas Messenger Bag For Man

If you're an outdoor enthusiast, a rugged canvas messenger bag is ideal. It can handle the elements while keeping your gear safe and accessible. Crafted from high-quality canvas material, this bag is built to withstand the rigors of daily life, making it an ideal companion for your adventures, whether in the urban jungle or the great outdoors. With multiple compartments and pockets, this messenger bag offers ample storage for all your essentials. It can easily accommodate your laptop, tablet, books, and more, while the front and side pockets keep your smaller items organized. The adjustable shoulder strap allows you to wear this bag comfortably as a crossbody, distributing weight evenly and ensuring a secure fit. It's designed for long-lasting comfort during your commute or travel. The timeless and versatile design of this bag makes it suitable for both casual and professional settings. The neutral canvas color complements any outfit, and the leather accents add a touch of sophistication.
Conclusion
Canvas messenger bags are not just bags; they are an extension of your style and personality. This selection of the top 10 canvas messenger bags for everyday use ensures that there's a perfect bag for everyone, regardless of their lifestyle or preferences. Make a statement while staying practical with these versatile accessories.