Top 10 Best Waxed Canvas Backpacks for Nature Lovers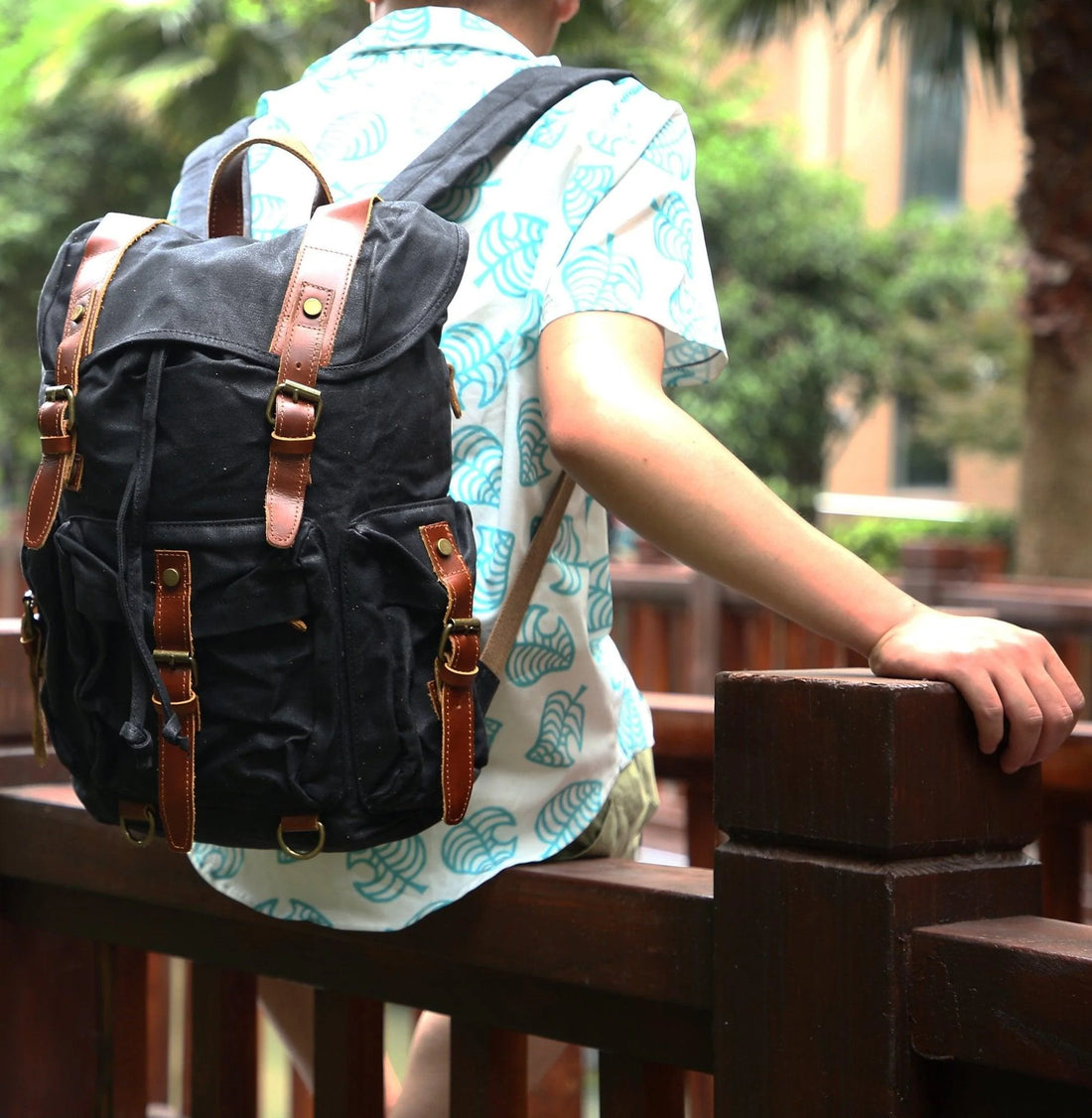 Introduction
When it comes to choosing the right Waxed Canvas Backpack for your outdoor escapades, it's all about finding the perfect blend of style, durability, and functionality. Here, we're kicking off our journey by exploring the first three backpacks on our list.
Backpack 1: Large Vintage Backpack Rucksack Canvas Travel

This backpack is all about embracing the great outdoors. It offers:

Weather Resistance: Made from high-quality waxed canvas, it can handle rain, mud, and all the elements that Mother Nature throws your way.

Spacious Compartments: With multiple pockets and dividers, this backpack ensures you can neatly organize your gear, whether it's hiking, camping, or simply a day in the wilderness.

Comfortable Straps: Padded shoulder straps and a breathable back panel ensure you can carry it comfortably for hours on end.

So, if you're looking for a trusty companion for your nature explorations, Backpack 1 is an excellent choice.

Backpack 2: Vintage Leather And Canvas Backpack Rucksack

If you live for adventure, this is your backpack. Here's what it offers:

Built for Tough Terrains: With rugged construction and reinforced stitching, it can endure even the harshest conditions.

Versatile Design: Whether you're a photographer or a hiker, this backpack is ready for action. It's designed for easy gear access and customization.

Classic Styling: The timeless design of this backpack makes a statement, no matter where your adventures take you.

Adventure seekers, this one's calling your name!
Backpack 3: Camo Vintage Canvas Backpacks For School

Are you an outdoor enthusiast who also values style? Look no further. This backpack boasts:

Fashion Meets Function: It's not just practical; it's a fashion statement. This backpack is as stylish as it is functional.

Quality Craftsmanship: Crafted with attention to detail, it ensures your gear stays safe, whether you're on a mountain trail or a city street.

Comfort is King: Padded straps and ergonomic features guarantee comfort during those long hikes and photo shoots.

If you want to turn heads while trekking through the wilderness, Backpack 3 is your choice.
Backpack 4: Waxed Canvas Rucksack Vintage Backpack
Step back in time with our Waxed Canvas Rucksack. Its vintage design takes you on a journey to the days of old, where rugged durability met classic style. The waxed canvas material not only looks authentically vintage but also carries a history of adventurers who came before you. This backpack is not just a bag; it's a piece of history. Under the flap of this vintage rucksack, you'll find a spacious interior that's waiting to accommodate all your essentials. The roomy main compartment offers enough space for your laptop, books, or clothing. It's perfect for a day at the office, a weekend getaway, or a stroll through the woods. The backpack's leather straps and metal buckles not only keep your belongings secure but also add an extra touch of class to your look.
Backpack 5: Large Waxed Canvas Hiking Backpack Rucksack Mens
Whether you're embarking on a rugged hike, camping under the stars, or simply seeking a reliable companion for your outdoor pursuits, this backpack is your ideal choice. This backpack offers an impressive storage capacity, ensuring you can pack all your essential gear for extended outdoor journeys. It's not just a backpack; it's your mobile storage unit. Crafted from high-quality waxed canvas, this backpack is built to withstand the toughest conditions. It's weather-resistant, so you can confidently traverse through rain or shine.
Backpack 6: Vintage Wax Canvas Rucksack Backpack
This backpack exudes a classic, vintage appeal that complements your style, whether you're in the great outdoors or navigating the urban jungle.

Durability: Crafted from high-quality waxed canvas, it's built to withstand various weather conditions, ensuring the safety of your gear.

Ample Storage: The spacious interior with multiple pockets and dividers allows you to organize your gear efficiently, making it perfect for nature lovers and photographers.

Comfortable to Carry: Padded shoulder straps and ergonomic design ensure that you can carry your gear comfortably, even during extended outdoor expeditions.
Backpack 7: Vintage Canvas Backpack Rucksack Laptop
The backpack is made from high-quality canvas material, which is not only strong but also durable. It can withstand the rigors of daily use and outdoor exploration. With multiple compartments and pockets, this backpack provides ample space for your belongings. It includes a dedicated laptop compartment, making it a great choice for students and professionals. The vintage design of this backpack adds a touch of classic style to your look. Whether you're heading to the office or going on a weekend trip, it complements your attire. The adjustable padded shoulder straps and ergonomic design ensure that you can carry this backpack in comfort, even when it's fully loaded. This backpack is suitable for various purposes. It's ideal for carrying your laptop and work essentials, but it's also spacious enough for a day trip or weekend getaway.
Backpack 8: Drawstring Waxed Canvas Backpack Vintage Rucksack
 The Drawstring Waxed Canvas Backpack Vintage Rucksack is a classic and stylish choice for those who appreciate the timeless beauty of vintage design. Crafted from durable and water-resistant waxed canvas, this backpack not only exudes a sense of nostalgia but also offers practicality for modern-day use. Waxed Canvas Durability: This backpack is constructed with high-quality waxed canvas, making it water-resistant and durable, perfect for outdoor adventures. The vintage rucksack design appeals to those who appreciate classic style, adding a touch of nostalgia to your daily or travel ensemble.
Backpack 9: Roll Top Waxed Canvas Vintage Backpack Rucksack
The Roll Top Waxed Canvas Vintage Backpack Rucksack is a true classic, combining timeless design with durability to create a backpack that's perfect for both outdoor adventures and everyday use. Crafted from high-quality waxed canvas, this backpack is built to withstand the test of time, ensuring your gear stays safe and dry no matter where your journey takes you. The waxed canvas material used in this backpack is highly weather-resistant. It can handle rain, snow, and mud, making it a reliable choice for outdoor enthusiasts. The roll-top closure not only adds a touch of vintage charm but also allows you to adjust the capacity of the backpack. Whether you're carrying a little or a lot, this backpack can adapt.
Backpack 10: Large Wax Canvas Backpack Vintage Mens
The Large Waxed Canvas Backpack Vintage Men's is the ideal companion for men who appreciate both style and functionality. This backpack seamlessly combines a vintage aesthetic with modern features to meet the needs of today's urban explorer. The vintage design of this backpack is a nod to the classic style of yesteryears. It exudes a timeless charm that complements various outfits. Despite its vintage appearance, this backpack offers ample space for your essentials. It can easily accommodate a laptop, books, gadgets, and more.
FAQ's
Now, let's answer some common questions about these fantastic backpacks for nature lovers:

Q: Are waxed canvas backpacks suitable for all weather conditions?
A: Absolutely! Waxed canvas is renowned for its weather-resistant properties, making it an ideal choice for all seasons.

Q: Can I customize the interior of these backpacks to fit my gear?
A: Most of these backpacks offer customizable dividers and pockets, ensuring your equipment fits snugly.

Q: How do I clean and maintain a waxed canvas backpack?
A: It's simple! Use a damp cloth and mild soap to clean it, and you can reapply wax as needed to maintain its water resistance.

Q: Are these backpacks comfortable for long nature expeditions?
A: Comfort is a priority. Look for backpacks with padded straps and ergonomic features for extended comfort on your adventures.

Q: Can I use these backpacks for purposes other than outdoor activities?
A: Absolutely! They're versatile and can double as your everyday bag, perfect for commuting, travel, and more.
Conclusion
In conclusion, for nature lovers who cherish both style and substance, a Waxed Canvas Backpack is a must-have. These backpacks not only keep your gear safe from the elements but also look fantastic while doing it. The combination of rugged durability, style, and functionality makes them the perfect companions for outdoor enthusiasts.

So, why wait? Get ready to embrace the wild in style with the "Top 10 Best Waxed Canvas Backpacks for Nature Lovers." Your next adventure is just a backpack away.