Top 10 Best Leather Duffle Bags for Travel and Style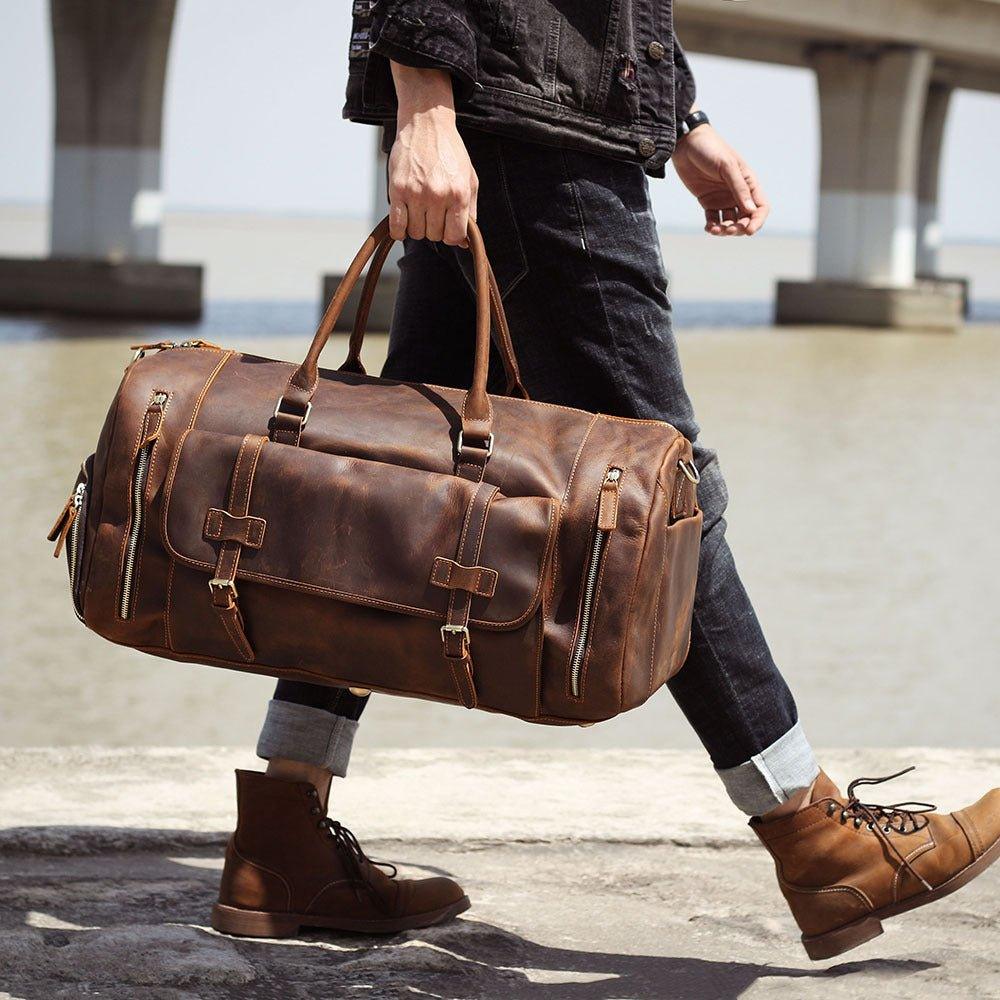 Introduction
Leather duffle bags have long been cherished for their durability, versatility, and timeless appeal. They have become an essential travel accessory for individuals who seek a reliable companion that can withstand the rigors of their journeys while exuding a touch of sophistication. Whether you're planning a weekend getaway, a business trip, or an adventure-filled expedition, a leather duffle bag offers the perfect combination of practicality and style.
Factors to consider when choosing a leather duffle bag
Before diving into our list of the top 10 best leather duffle bags, it's essential to understand the key factors to consider when making your selection. These factors will help ensure that you choose a bag that aligns with your specific needs and preferences. Here are some crucial factors to keep in mind:


Size and capacity: Determine the size and capacity of the bag based on your travel requirements. Consider the duration of your trips and the items you typically carry to ensure that the bag can accommodate your belongings comfortably.
Material quality: Opt for genuine leather bags to ensure longevity and durability. Look for full-grain or top-grain leather options, as they offer superior quality and age beautifully over time.
Design and functionality: Evaluate the bag's design features, such as the number of compartments, pockets, and organizational options. Consider whether you prefer a duffle bag with a shoulder strap or handles, as well as any additional features like shoe compartments or laptop sleeves.
Craftsmanship and attention to detail: Examine the bag's construction and stitching to ensure excellent craftsmanship. Attention to detail is crucial, as it contributes to both the bag's overall aesthetic and its ability to withstand frequent use.
Style and personal preference: Choose a bag that aligns with your personal style and complements your travel wardrobe. Leather duffle bags come in a variety of designs, from classic to contemporary, allowing you to find the perfect match for your taste.
Top 10 Best Leather Duffle Bags
The Leather Weekender Travel Bag with Shoe Compartment combines style and functionality, making it the perfect companion for your weekend getaways and short trips. Crafted from high-quality leather, this bag exudes elegance and durability, ensuring it withstands the demands of your travels. With a thoughtfully designed shoe compartment, you can keep your shoes separate from your clothes, maintaining cleanliness and organization throughout your journey.
The Leather Duffel Bag 22 inch with Shoe Pocket is not limited to being just a travel bag. Its versatility extends beyond your weekend adventures. Whether you're hitting the gym, going for a quick business trip, or embarking on a spontaneous outing, this bag adapts to your needs effortlessly.
With its sleek and sophisticated design, this leather duffle bag seamlessly transitions from travel companion to a stylish accessory for everyday use. The sturdy handles and shoe pocket provide multiple carrying options, ensuring comfort and convenience on the go.
Indulge in the timeless elegance of the Large Leather Duffle bag With Trolley Sleeve. Crafted from premium leather, this bag ages gracefully, developing a rich patina over time. The exquisite craftsmanship and attention to detail make it a true statement piece that never goes out of style.
Not only does this bag enhance your style, but it also offers exceptional durability. The high-quality leather, reinforced stitching, and sturdy hardware guarantee longevity, allowing you to embark on countless adventures with confidence. Invest in a bag that not only serves its purpose but also becomes a cherished companion on your journey through life.
Crafted with utmost precision and attention to detail, our Real Leather Duffel Bags For Men in 18-inch size are a perfect blend of style and durability. Made from genuine leather, these duffel bags exude a sense of sophistication and elegance that is sure to turn heads wherever you go. The rich texture and natural patina of the leather make each bag unique, showcasing its authentic character.
With a generous 20-inch size, our real leather duffel bags offer ample space to accommodate all your travel essentials. Whether you're packing for a weekend getaway or a short business trip, these bags provide enough room to carry your clothing, toiletries, and other necessities. The spacious main compartment allows for easy organization, while the additional pockets and compartments provide convenient storage options for your accessories, gadgets, and personal items.
Designed with the modern traveler in mind, our real leather duffel bags are built to withstand the demands of your journeys. The high-quality leather ensures exceptional durability, allowing the bag to withstand the test of time and accompany you on countless adventures. The sturdy handles and adjustable shoulder strap provide comfortable carrying options, ensuring convenience and ease of use.
Whether you're embarking on a weekend trip, hitting the gym, or heading to a business meeting, our real leather duffel bags for men are the perfect companions. Their versatile design allows them to seamlessly transition from travel bag to everyday use, making them an ideal choice for the contemporary man on the go.
With the integrated garment compartment, this leather bag ensures that your suits, dresses, and other formal attire remain wrinkle-free during your travels. The spacious compartment features a secure hanger bracket and multiple interior pockets to neatly store your clothing accessories. Say goodbye to the hassle of carrying a separate garment bag, as this versatile duffel keeps everything in one place.
Step into the world of timeless sophistication with our Men's Leather Duffle Weekender Bag Vintage. This bag is a perfect blend of classic design and rugged charm, offering a vintage appeal that adds character to your travel ensemble. Crafted with meticulous attention to detail, it is made from high-quality leather that only gets better with age, reflecting the stories of your adventures.
FAQs
Q: Are leather duffle bags suitable for both men and women?
A: Yes, leather duffle bags are a versatile option suitable for both men and women. They come in various designs and sizes, allowing individuals to find a bag that suits their style and preferences.

Q: Can leather duffle bags be used as carry-on luggage?
A: Many leather duffle bags meet the size requirements for carry-on luggage. However, it's always recommended to check with the airline you're traveling with to ensure compliance with their specific regulations.

Q: How do I care for a leather duffle bag?
A: To keep your leather duffle bag in excellent condition, regularly clean it with a soft cloth and a leather cleaner or conditioner. Avoid exposing the bag to excessive moisture or direct sunlight, as these can damage the leather.

Q: Are leather duffle bags durable?
A: Yes, genuine leather duffle bags are known for their durability. With proper care and maintenance, they can withstand years of travel adventures while retaining their quality and appearance.

Q: Can leather duffle bags be personalized?
A: Many leather duffle bag manufacturers offer personalization options, such as monogramming or embossing initials. Check with the brand or retailer for customization possibilities.
Conclusion
In conclusion, a leather duffle bag is a must-have travel accessory for anyone who values both functionality and style. The top 10 best leather duffle bags we've explored in this article offer a range of options to suit various preferences and travel needs. By considering the factors discussed and exploring the features and benefits of each bag, you can find the perfect companion for your travels. Invest in a high-quality leather duffle bag and embark on your journeys with confidence and elegance.