Top 10 Best Leather Briefcases for Professional Style and Functionality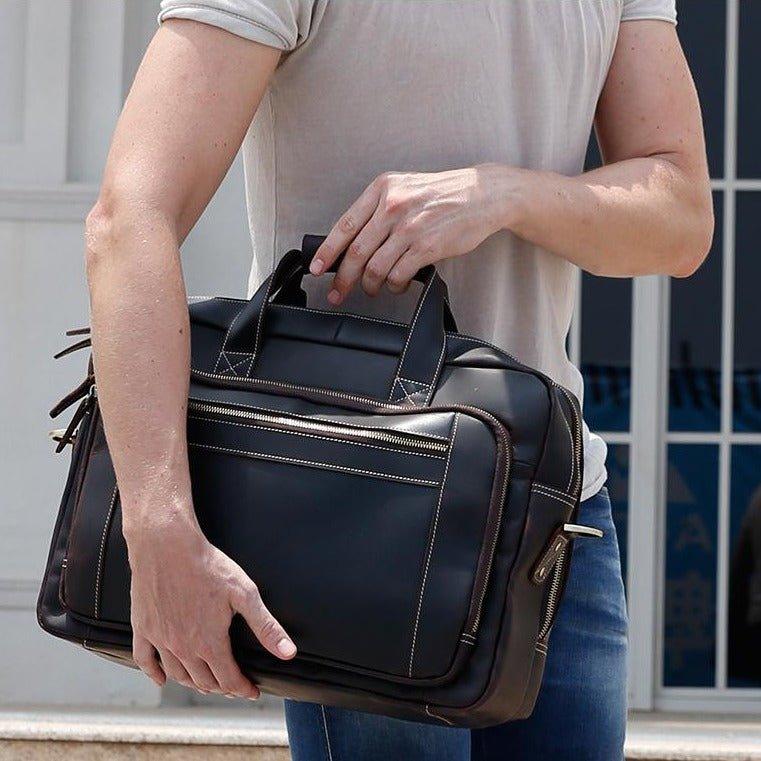 Introduction
Are you in search of the perfect leather briefcase that combines professional style with optimal functionality? Look no further! In this comprehensive guide, we present to you the top 10 best leather briefcases for professional style and functionality. Whether you're a business executive, lawyer, or simply want to upgrade your work essentials, these briefcases offer the ideal blend of sophistication, durability, and practicality. From sleek and modern designs to classic and timeless aesthetics, these briefcases are handpicked to meet your professional needs. Let's dive into the world of premium leather briefcases that make a statement wherever you go.
Experience the epitome of refined style and enduring craftsmanship with the Woosir Vintage Leather Briefcase for Men. Meticulously handcrafted with attention to detail, this briefcase embodies the perfect blend of classic elegance and modern functionality. With its sleek lines and luxurious leather exterior, it is the ideal companion for the sophisticated gentleman.
Indulge in the unrivaled quality of genuine leather that stands the test of time. Crafted from premium full-grain cowhide leather, this briefcase boasts exceptional durability, ensuring it becomes a trusted companion for your professional journey. The natural patina of the leather only grows more lustrous with age, making this briefcase a testament to your enduring style.
Efficiency meets elegance with the Woosir Vintage Leather Briefcase. Designed to accommodate the demands of a modern professional, its thoughtfully crafted compartments and pockets provide effortless organization for your essentials. From documents and gadgets to business cards and pens, everything has its dedicated place, allowing you to stay organized and exude confidence wherever you go.
Embrace the versatility of the Woosir Vintage Leather Briefcase, designed to effortlessly transition from boardroom meetings to weekend getaways. The detachable and adjustable shoulder strap offers convenience and comfort, allowing you to carry it as a traditional briefcase or wear it as a stylish messenger bag. Adaptability is key, and this briefcase provides the ultimate flexibility to suit your ever-changing lifestyle.
Your valuable possessions deserve the utmost protection. The Woosir Vintage Leather Briefcase features a padded laptop compartment, safeguarding your tech essentials from daily commutes to business travels. Reinforced stitching and sturdy hardware ensure the security of your belongings, giving you peace of mind while you focus on conquering your professional endeavors.
Step into the world of timeless elegance with the Woosir Men's Leather Business Bags Briefcase. Crafted with meticulous attention to detail, this briefcase is a symbol of sophistication and class. Designed for the modern professional, it effortlessly combines functionality with a refined aesthetic, making it the perfect companion for any business endeavor.
Built to withstand the demands of a fast-paced lifestyle, this briefcase is constructed from high-quality leather that ages beautifully over time. The durable materials and expert craftsmanship ensure that this briefcase will accompany you on your professional journey for years to come. It is a testament to your commitment to quality and a reflection of your unwavering determination to succeed.
Efficiency is the key to productivity, and the Woosir Leather Briefcase for Men 16 Inches Laptop Bag understands this well. With its thoughtfully designed compartments and pockets, it offers ample space to store your essentials in an organized manner. From your laptop and documents to your pens and business cards, everything has its place within this briefcase. Stay organized and focused, and conquer your day with ease.
Discover the epitome of timeless elegance with the Woosir 15.6 Inches Vintage Leather Briefcase for Men. Crafted with meticulous attention to detail, this briefcase is more than just a functional accessory—it's a statement of sophistication. Designed for the modern gentleman, it exudes an aura of confidence and commands respect in any professional setting.
Step into the world of superior craftsmanship with this vintage leather briefcase. Made from genuine leather that improves with age, it offers unmatched durability that withstands the test of time. From the carefully selected materials to the precise stitching, every element of this briefcase is designed to ensure long-lasting quality, making it a reliable companion for your journey to success.
Conclusion
Investing in a high-quality leather briefcase is a smart choice for any working professional. Not only does it elevate your professional image, but it also provides functionality and organization for your daily essentials. The Top 10 Best Leather Briefcases for Professional Style and Functionality offer a range of options to suit different styles, needs, and budgets. Choose the one that best fits your unique needs and enjoy the benefits for years to come.