Top 10 Best Camera Backpacks for Photographers in 2023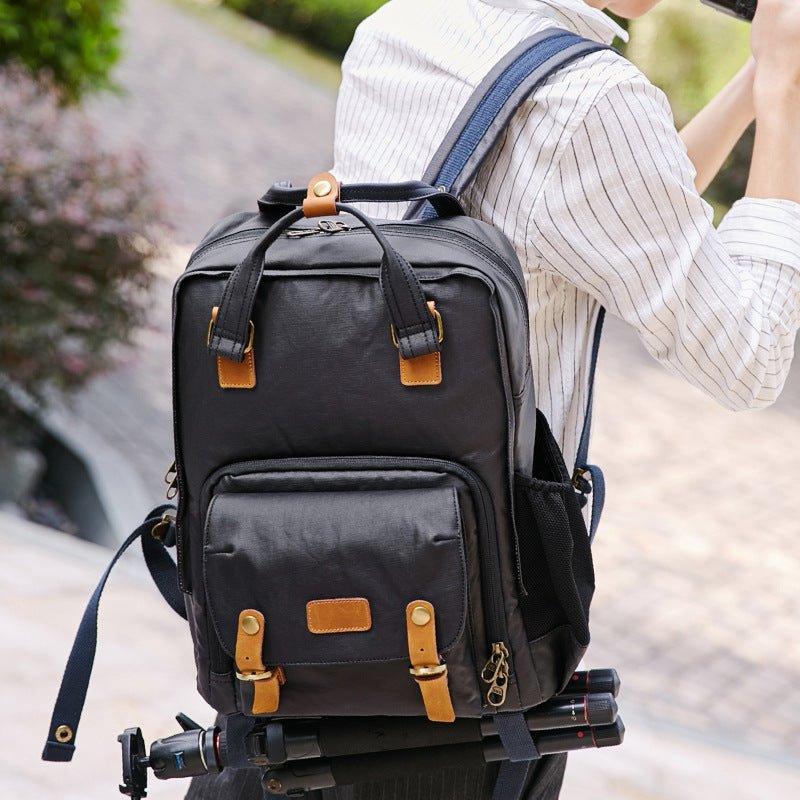 Introduction
As a photographer, having a reliable camera backpack is crucial for carrying and protecting your valuable gear while on the go. With so many options available in the market, it can be overwhelming to choose the right one. That's why we have compiled a list of the top 10 best camera backpacks for photographers in 2023. Whether you're a professional or an enthusiast, these backpacks offer the perfect combination of functionality, durability, and style to meet your specific needs.
Importance of a Camera Backpack
A camera backpack is more than just a bag to carry your equipment. It is a vital tool that provides secure storage, easy access, and protection for your cameras, lenses, and accessories. Unlike regular backpacks, camera backpacks are designed with specialized compartments and padding to keep your gear organized and safe from bumps, shocks, and weather conditions. They also offer ergonomic features, such as adjustable straps and back support, to ensure comfort during long hours of shooting. With a camera backpack, you can focus on capturing stunning images without worrying about the safety of your equipment.
Factors to Consider
When choosing a camera backpack, several factors should be taken into consideration:


The backpack should have enough space to accommodate your camera body, lenses, batteries, memory cards, and other accessories. Consider the size and number of compartments, dividers, and pockets to ensure efficient organization and easy access to your gear.
Durability and Protection
Look for a backpack made from high-quality materials that can withstand the rigors of travel and provide adequate protection against impact and weather conditions. Features like water-resistant or waterproof fabric, reinforced stitching, and padded interiors are essential for keeping your equipment safe.
Since you'll be carrying the backpack for extended periods, opt for a design that offers comfort and support. Padded shoulder straps, a breathable back panel, and a waist belt distribute the weight evenly and reduce strain on your body.
Accessibility and Security
Easy access to your gear is essential for quick and efficient shooting. Look for backpacks with quick-release buckles, adjustable dividers, and side openings that allow you to reach your equipment without removing the entire backpack. Additionally, features like lockable zippers and hidden pockets provide added security.
Top 10 Camera Backpacks
Here are the top 10 camera backpacks that combine functionality, durability, and style:
The Woosir Vintage Leather Camera Backpack is the perfect companion for photographers who value both style and functionality. Crafted with premium quality leather, this backpack exudes a timeless charm while providing ample space and protection for your camera gear and laptop.

Featuring a spacious main compartment, this camera backpack allows you to securely store your camera body, lenses, and accessories. The adjustable interior dividers offer customizable organization, ensuring that your gear remains safe and organized during travel or photo shoots.

With a dedicated laptop compartment, this backpack is designed to fit laptops of various sizes, providing convenience for photographers who need to edit and transfer their images on the go. The padded sleeve offers optimal protection, safeguarding your laptop from bumps and scratches.
The Leather DSLR Camera Bag Small Travel exterior not only adds a touch of elegance but also provides durability to withstand the rigors of daily use. The backpack's adjustable shoulder straps and padded back panel ensure maximum comfort even during long hours of carrying.
Whether you're a professional photographer or an enthusiast, this camera backpack combines style, functionality, and protection to meet your photography needs. Stand out from the crowd with this premium vintage leather backpack that reflects your passion for photography.
Experience the allure of vintage style with the Woosir Leather Camera Bag. Crafted with meticulous attention to detail, this bag combines timeless aesthetics with modern functionality. From its premium leather exterior to the antique brass accents, every element is designed to exude elegance and sophistication.
Step into the world of photography with confidence and style. The Woosir Waterproof Waxed Canvas Camera Backpack captures the essence of vintage photography while providing ample space for your SLR and DSLR cameras, lenses, and accessories. Carry your gear in a bag that complements your passion for photography and reflects your unique sense of style.
Explore the great outdoors with confidence, knowing that your precious DSLR or mirrorless camera is well-protected. The Woosir Waterproof Canvas Bag offers exceptional durability and water resistance, ensuring that your gear remains shielded from rain, splashes, and unpredictable weather conditions. Embrace any adventure without worrying about the safety of your equipment.
Designed with the needs of photographers in mind, this canvas bag provides excellent shock absorption to safeguard your camera from accidental bumps or drops. The high-quality canvas material combined with reinforced padding ensures that your gear stays secure and protected, even during active shoots or outdoor excursions.
Effortlessly organize and carry all your photography essentials in one convenient bag. The Woosir Waterproof Canvas Bag features adjustable dividers and multiple pockets to accommodate your camera body, lenses, batteries, memory cards, and other accessories. Stay organized and ready to capture the perfect shot at a moment's notice.
Elevate your photography experience with a bag that combines style and practicality. The Woosir SLR Digital Camera Bag Anti-theft Waterproof boasts a sleek and modern design that complements your professional image. Whether you're shooting on location or attending a photography event, this bag adds a touch of sophistication to your gear ensemble.
Say goodbye to uncomfortable and bulky camera bags. The Woosir Leather Canvas Camera Bag Vintage Messenger Bag features an adjustable padded shoulder strap and a reinforced top handle, ensuring comfortable and easy transportation. Carry your camera gear for extended periods without feeling weighed down, and enjoy quick access to your equipment whenever inspiration strikes.
The Woosir Camera Backpack Canvas with Laptop Compartment is more than just a storage solution—it's a catalyst for creativity. Feel inspired to explore new perspectives, capture unique moments, and push the boundaries of your art. Let this bag accompany you on your photographic adventures and empower you to unleash your full creative potential.
FAQs
Are camera backpacks waterproof?
While some camera backpacks feature water-resistant or waterproof materials, not all of them provide complete waterproofing. It is essential to check the specifications of the backpack and consider additional waterproofing measures like rain covers or dry bags for added protection during adverse weather conditions.
Can I fit a tripod in these backpacks?
Many camera backpacks have dedicated tripod carrying systems or external attachment points to secure tripods. However, the compatibility and size may vary between different backpack models. Ensure to check the specifications and features of the backpack to confirm if it can accommodate your tripod.
How important is comfort in a camera backpack?
Comfort is crucial, especially if you plan to carry your camera gear for extended periods. Look for backpacks with padded straps, adjustable harness systems, and breathable back panels to reduce strain and enhance comfort during long photography sessions or travel.
Are these backpacks airline carry-on friendly?
Some camera backpacks are designed to meet airline carry-on size restrictions, while others may exceed the allowed dimensions. It's advisable to check the specific dimensions of the backpack and consult the airline's guidelines to ensure compliance with carry-on regulations.
Can these backpacks hold multiple camera bodies and lenses?
Yes, the camera backpacks mentioned in this article are designed to accommodate multiple camera bodies, lenses, and other accessories. They offer customizable interior layouts with dividers and compartments, allowing you to organize your gear efficiently and securely.
Conclusion
Investing in a reliable camera backpack is essential for photographers to protect their valuable equipment and ensure comfort during their photographic journeys. The top 10 camera backpacks mentioned above combine durability, functionality, and style to cater to the diverse needs of photographers. Consider your specific requirements, such as storage capacity, durability, comfort, and accessibility, to choose the perfect camera backpack that enhances your photography experience.