The Ultimate List of the Best Canvas Backpacks in 2023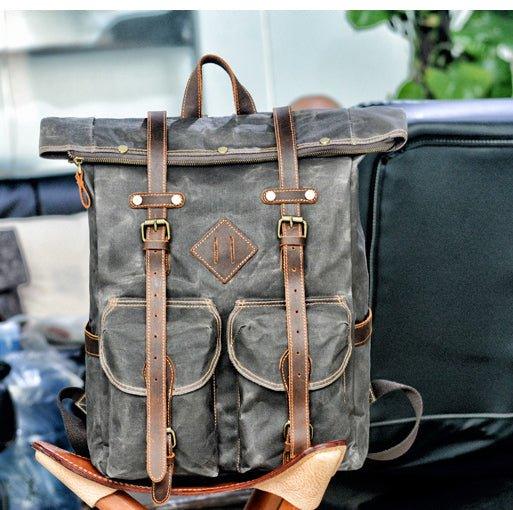 Introduction
Canvas backpacks have always been a classic choice for individuals seeking a reliable and stylish bag for their everyday needs. With their timeless appeal and durable construction, canvas backpacks continue to be a popular option in 2023. Whether you're a student, a traveler, or someone who appreciates a well-crafted accessory, a canvas backpack can be your perfect companion. In this article, we present the ultimate list of the best canvas backpacks for 2023, ensuring you find the perfect one that suits your style and requirements.
Why Choose Canvas Backpacks?
Canvas backpacks offer several advantages that make them stand out among other materials. Firstly, canvas is a sturdy and durable fabric, capable of withstanding the rigors of daily use. It provides excellent protection for your belongings, ensuring they stay safe and secure. Additionally, canvas has a natural water-resistant quality, making it suitable for various weather conditions.

Canvas backpacks also offer a wide range of designs and styles to choose from. Whether you prefer a minimalist aesthetic, vintage charm, or contemporary flair, there's a canvas backpack that matches your personal style. The versatility of canvas allows for creative and unique designs that make a fashion statement.

Furthermore, canvas is an eco-friendly choice compared to synthetic materials. It is made from natural fibers, reducing the environmental impact associated with plastic-based materials. By choosing a canvas backpack, you not only invest in a reliable accessory but also contribute to sustainable practices.
Factors to Consider When Choosing a Canvas Backpack
When selecting a canvas backpack, it's essential to consider certain factors to ensure you make the right choice. Here are key aspects to keep in mind:
Size and Capacity
Consider your intended use and the amount of storage space you require. Whether you need a compact backpack for daily essentials or a larger one for travel or outdoor adventures, choosing the appropriate size ensures optimal functionality.
Design and Style
Canvas backpacks come in various designs, ranging from classic and minimalist to vibrant and patterned. Determine your preferred style and look for backpacks that match your aesthetic taste.
Durability and Quality
Check the construction and materials used in the backpack. Look for reinforced stitching, sturdy hardware, and high-quality canvas fabric to ensure durability and longevity.
Comfort and Ergonomics
Consider the comfort features of the backpack, such as padded shoulder straps, a breathable back panel, and adjustable components. A well-designed backpack will provide ergonomic support, reducing strain on your body during extended use.
Organizational Features
Evaluate the backpack's organization options, such as multiple compartments, pockets, and dividers. These features help keep your belongings organized and easily accessible.
Price and Value
Set a budget and compare prices to find a canvas backpack that offers the best value for your investment. Consider the overall quality, features, and durability in relation to the price.
Top 10 Canvas Backpacks for 2023
Now, let's dive into the top 5 canvas backpacks for 2023. These backpacks have been carefully selected based on their quality, design, functionality, and customer reviews.

Indulge in the charm and nostalgia of our Vintage College Backpacks. These beautifully crafted backpacks combine the allure of vintage aesthetics with modern functionality. With their classic design and attention to detail, they are sure to make a statement wherever you go.

Embrace the timeless elegance of a bygone era. Our Vintage College Backpacks feature intricate stitching, premium leather accents, and antique brass hardware. Each backpack is carefully constructed to evoke a sense of nostalgia while offering durability that stands the test of time.

Step into the world of functionality and versatility with our Vintage School Backpacks. Designed to meet the needs of modern-day adventurers, these backpacks are more than just a fashion accessory. They are your reliable companion for all your daily excursions.

With multiple compartments and pockets, organizing your belongings becomes effortless. Safely store your laptop, books, notebooks, and other essentials while keeping them easily accessible. The spacious interior ensures ample room for all your belongings, making it an ideal choice for students, professionals, and travelers alike.

Express your unique personality and make a fashion statement with our Canvas 15 Inches Laptop Casual Backpack. Available in a range of colors and designs, you can find the perfect backpack that complements your individual style. From earthy tones to vibrant hues, there's a Vintage College Backpack that suits every taste.

Carry a piece of history on your back and let the world take notice. Our Vintage College Backpacks exude an air of sophistication and effortless style. Whether you're strolling through campus, exploring the city, or heading to a business meeting, these backpacks add a touch of elegance to any outfit.

Stay connected and powered up wherever you are with the built-in USB port of our Large Retro Canvas Backpack. Designed for the digital age, this feature allows you to charge your devices on the go, making it an essential companion for travelers, commuters, and tech-savvy individuals.

Never run out of battery again. Simply connect your power bank to the internal USB port, and you can conveniently charge your phone, tablet, or other USB-powered devices. Stay connected, productive, and worry-free, knowing that you have a reliable power source at your fingertips.
Step back in time and embrace the allure of the past with our Large Retro Canvas Backpack. This backpack is a perfect blend of vintage charm and contemporary features, making it a must-have for the modern explorer. With its retro-inspired design, it exudes a sense of nostalgia that sets you apart from the crowd.

Carry a piece of history on your back. The Men Canvas Backpack Schoolbag 14 Inch Laptop Bag features a classic canvas exterior, reminiscent of iconic styles from the past. The rugged yet stylish look gives you a unique edge and showcases your individuality. Whether you're heading to work, school, or an outdoor adventure, this backpack adds a touch of retro flair to your ensemble.
Discover the perfect blend of style and functionality with our Large Vintage Backpack. Crafted with a timeless design, this backpack captures the essence of vintage aesthetics, making it a captivating accessory for the modern adventurer.

Unleash your inner explorer. The Large Vintage Backpack showcases a classic rucksack silhouette, crafted from durable canvas material. Its vintage appeal adds a touch of nostalgia, transporting you to a bygone era of adventure and exploration. Stand out from the crowd and make a statement with this stylish and eye-catching backpack.
Experience the utmost convenience and versatility with our Large Leather and Canvas Backpack. Designed to meet the demands of your active lifestyle, this backpack offers ample storage space and practical features that make it the perfect companion for your travels, outdoor activities, and daily adventures.

Effortlessly carry everything you need. The spacious main compartment provides ample room for your clothing, gear, and essentials, while the multiple exterior pockets keep your small items organized and easily accessible. The adjustable straps ensure a comfortable fit, allowing you to carry the backpack with ease wherever your journey takes you.
Stand out from the crowd with our Camo Vintage Canvas Backpacks. Designed for those who seek both fashion and functionality, these backpacks offer a unique blend of rugged camouflage aesthetics and timeless vintage charm.

Make a statement with your backpack. The camo pattern adds a touch of edginess and adventure to your everyday look. It not only complements your individual style but also allows you to express your adventurous spirit with confidence. Embrace the camo trend and set yourself apart from the ordinary.
Built to withstand the test of time, our Vintage Leather and Canvas Backpack Rucksack boasts exceptional craftsmanship and durability. Every detail is meticulously designed to ensure longevity, making this backpack a reliable companion for your most adventurous expeditions.

Embark on unforgettable journeys with confidence. The backpack's rugged canvas construction ensures it can withstand the rigors of outdoor adventures, providing you with peace of mind and reliability. From hiking trails to city streets, this backpack is built to accompany you on every step of your journey.
Prioritize your comfort with our Large Waxed Canvas Hiking Backpack Rucksack Mens. Engineered with ergonomic design principles, these backpacks ensure a comfortable and supportive fit, reducing strain on your shoulders and back even during extended wear.

Say goodbye to discomfort. The padded shoulder straps and back panel of our backpacks provide cushioning and support, allowing you to carry your school essentials with ease. The breathable materials enhance airflow, preventing excessive heat buildup and keeping you cool and comfortable throughout the day.
Conclusion
In conclusion, canvas backpacks continue to be a timeless choice in 2023, combining style, durability, and functionality. With their versatile designs and reliable construction, they are perfect for students, professionals, travelers, and anyone in need of a dependable bag. By considering the factors mentioned above and exploring the top 5 canvas backpacks for 2023, you can find the perfect backpack that suits your needs and reflects your personal style.