The Best Roll Top Backpacks for Traveling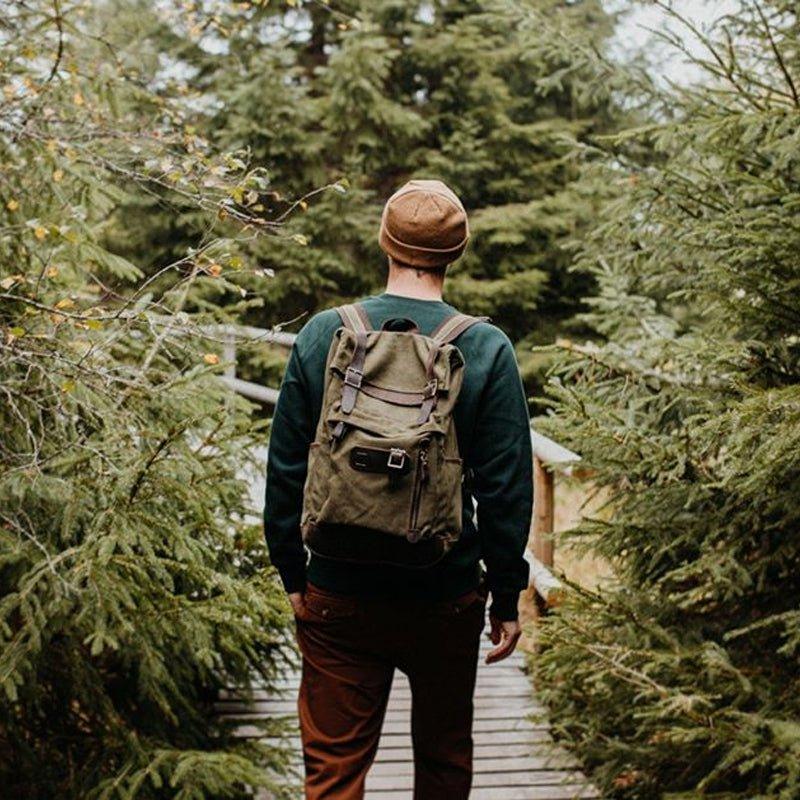 Introduction
When it comes to traveling, having the right backpack can make all the difference. Roll top backpacks have gained popularity among travelers due to their versatility, durability, and stylish design. In this article, we will explore the top 10 roll top backpacks that are perfect for traveling. Whether you're an adventurous explorer, a tech-savvy wanderer, or a business traveler, we have compiled a list of backpacks to suit your needs.
Benefits of Roll Top Backpacks
Roll top backpacks offer several advantages for travelers. Firstly, their roll-top closure system provides a secure and waterproof seal, keeping your belongings safe and protected from the elements. Additionally, roll top backpacks often have spacious interiors with multiple compartments, allowing you to organize your essentials efficiently. The adjustable capacity of these backpacks is another advantage, as you can expand or compress the bag according to your needs. Lastly, roll top backpacks are known for their durability, making them ideal for rugged adventures.
Factors to Consider When Choosing a Roll Top Backpack
Before making a purchase, there are a few key factors to consider when choosing a roll top backpack. Firstly, assess the backpack's size and capacity to ensure it can accommodate your travel essentials. Look for features such as padded shoulder straps and back panels for added comfort during long journeys. Durability and weather resistance are also crucial aspects, especially if you plan to travel in diverse environments. Additionally, consider the style and design of the backpack to align with your personal preferences.
Our Top Picks: The Best Roll Top Backpacks for Traveling

Vintage Canvas Backpack Rucksack Roll Top :The Adventurer's Choice

Designed for outdoor enthusiasts, this backpack offers rugged construction, waterproof material, and multiple compartments to keep your gear organized.

Roll Top Waxed Canvas Vintage Backpack Rucksack The Stylish Companion
Combining fashion and function, this backpack boasts a sleek design, high-quality materials, and convenient features for urban travelers.

Canvas Vintage Backpack Roll Top: The Versatile Traveler
This backpack adapts to various travel situations with its adjustable capacity, comfortable straps, and durable construction.

Vintage Roll Top Waxed Canvas Backpack Rucksack: The Tech Enthusiast's Delight
Featuring dedicated pockets and compartments for your gadgets, this backpack keeps your electronics secure and easily accessible.

Roll Top Waxed Canvas Backpack Mens: The Minimalist's Essential
For those who prefer traveling light, this backpack offers a compact size, lightweight design, and essential features for minimalist travelers.

Waxed Canvas Roll Top Backpack Vintage with Laptop Sleeve: The Urban Explorer's Companion
With its urban-friendly design, anti-theft features, and organizational pockets, this backpack is perfect for navigating city streets.

Mens Roll Top Canvas Backpack Vintage Rucksack: The Outdoor Enthusiast's Dream
Built for rugged adventures, this backpack is made from durable materials, equipped with external attachment points, and offers excellent weather resistance

Roll Top Vintage Backpack Waxed Canvas with Laptop Sleeve: The Business Traveler's Companion
This backpack combines professionalism and functionality with its sleek design, laptop compartment, and organizational features for business travelers.

Vintage Roll Top Canvas Backpack Rucksack Travel Men Women: The Eco-Conscious Choice
Designed to excel in various travel scenarios, this backpack combines durability, functionality, and style, making it a versatile choice for any traveler.
Vintage Roll Top Backpack Rucksack Travel: The Budget-Friendly Option
Offering affordability without compromising quality, this backpack provides practical features, comfort, and durability for budget-conscious travelers.
Conclusion
In conclusion, roll top backpacks are a fantastic choice for travelers seeking versatility, durability, and style. With our list of the top 10 roll top backpacks, you can find the perfect companion for your next adventure. Remember to consider your specific needs, such as size, comfort, and weather resistance, when selecting a backpack. Happy travels!