The Benefits of Owning a Canvas Tote Bag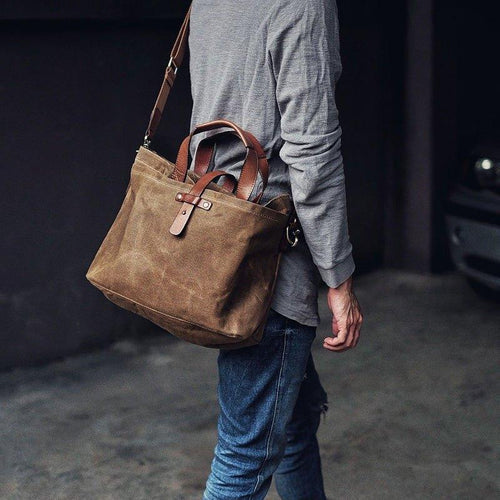 Introduction
In a world where fashion meets functionality, canvas tote bags have become a popular accessory for individuals of all ages. With their versatile design and practical features, these bags offer a myriad of benefits that make them a must-have in any wardrobe. Whether you're heading to the beach, running errands, or going to work, a canvas tote bag can elevate your style while providing convenience and ease. In this article, we will explore the numerous advantages of owning a canvas tote bag, highlighting how they seamlessly blend functionality and fashion.
Why Choose a Canvas Tote Bag?
Before we delve into the specific benefits, it's important to understand why a canvas tote bag is an excellent choice for your daily needs. Canvas, a durable and sturdy material, forms the foundation of these bags, making them reliable and capable of withstanding everyday wear and tear. The tote design, characterized by its spacious open top and sturdy handles, ensures easy accessibility and ample room for all your belongings. Now, let's explore the advantages of owning a canvas tote bag in detail.
Versatility for Everyday Use
A canvas tote bag effortlessly transitions from casual to formal settings, making it a versatile accessory that complements various outfits and occasions. Whether you're going to the office, attending a social gathering, or running errands, a canvas tote bag offers a stylish and practical solution to carry your essentials. Its neutral tones and classic design make it a timeless choice that suits any ensemble, enhancing your overall look with a touch of sophistication.
Practicality and Functionality
One of the key advantages of a canvas tote bag is its practicality and functionality. The open-top design allows for easy access to your belongings, ensuring quick retrieval of items when you're on the go. The spacious interior provides ample room for essentials such as your wallet, keys, phone, and even a tablet or small laptop. Additionally, many canvas tote bags feature interior pockets or compartments, enabling you to organize your belongings efficiently.
Fashionable and Trendy
Canvas tote bags have evolved into a fashion statement, offering a blend of style and functionality. With an array of designs, patterns, and colors available, you can find a canvas tote bag that suits your personal taste and complements your individual style. Whether you prefer a minimalist and monochromatic look or a bold and vibrant print, there is a canvas tote bag out there to match your unique fashion sense.
Eco-Friendly and Sustainable
As the world becomes more conscious of environmental sustainability, canvas tote bags have gained popularity due to their eco-friendly nature. Unlike single-use plastic bags, canvas tote bags are reusable and durable, reducing the need for disposable options. By opting for a canvas tote bag, you actively contribute to reducing plastic waste and promoting a more sustainable lifestyle.
Convenient and Spacious Design
The spacious design of a canvas tote bag makes it an ideal companion for various activities. Whether you're heading to the farmer's market, going to the gym, or planning a day at the beach, a canvas tote bag offers enough room to carry your groceries, workout essentials, towels, and more. The sturdy handles ensure comfortable carrying, even when the bag is packed to its full capacity.
Durable and Long-lasting
Canvas tote bags are known for their durability and longevity. Constructed from thick and robust canvas material, these bags can withstand the rigors of daily use without losing their shape or strength. Unlike other materials that may tear or wear out over time, a well-made canvas tote bag can last for years, providing you with a reliable and dependable accessory.
Easy to Maintain
Maintaining a canvas tote bag is a breeze, making it a practical choice for individuals with busy lifestyles. In most cases, a simple wipe-down with a damp cloth is sufficient to clean the exterior surface. If needed, you can hand wash the bag using mild soap and water. After cleaning, allow it to air dry completely before using it again. With minimal effort, your canvas tote bag will look as good as new.
Affordable and Access
Unlike designer handbags or high-end accessories, canvas tote bags are affordable and accessible to a wide range of individuals. With various price points available, you can find a canvas tote bag that fits your budget without compromising on quality or style. Whether you choose a budget-friendly option or invest in a premium canvas tote bag, you can enjoy the benefits of this versatile accessory without breaking the bank.
Customizable Options
Another appealing aspect of canvas tote bags is the opportunity for customization. Many brands and retailers offer personalization services, allowing you to add monograms, initials, or unique designs to your bag. This adds a personal touch and makes your canvas tote bag truly one-of-a-kind. Express your individuality and create a bag that reflects your personality and style.
Conclusion
In conclusion, owning a canvas tote bag provides a myriad of benefits that seamlessly blend functionality and fashion. From their versatility for everyday use to their practicality, durability, and eco-friendliness, canvas tote bags offer a stylish and reliable solution to carry your essentials. Whether you're a student, a working professional, or a fashion enthusiast, a canvas tote bag is a must-have accessory that combines utility and style in one package.