Men's Stylish Vintage Leather Sling Bags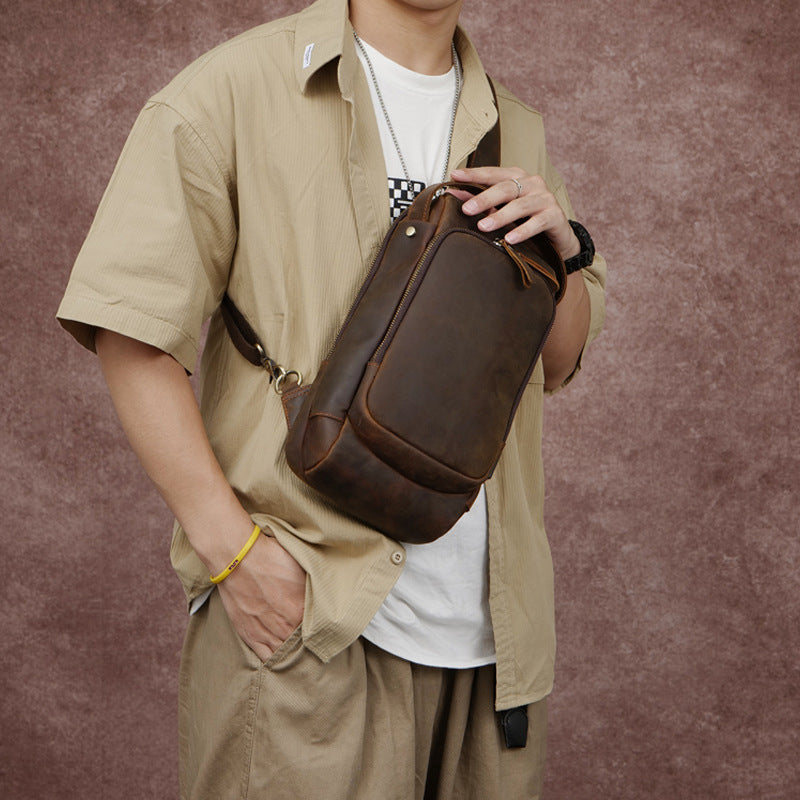 Sling bags are slowly but surely making their way into the everyday lives of men everywhere. Men no longer need a large bag to carry their daily essentials when they're out and about; all they need is a men's leather sling bag.
Stylish and practical.
While the storage capacity of a sling backpack may be less than that of a traditional backpack, the ease with which it can be used to transport your belongings cannot be overstated.
Hands-free, your sling bag nestles snugly across your body, leaving you free to engage in any activity. You can adjust the straps to fit your body, and the backpack's padding as well as its breathable material keep your back cool and dry.
Sling bags are an excellent choice for the summer.
When it's hot outside, these lightweight bags are a great choice. For a day at the beach or a trip to see the sights, these sling leather bags for men are the ideal companions.
The fact that they're small and portable contributes to their ability to keep you cool and comfortable during the hottest days of summer. Your back won't perspire if you go with one of these popular choices.
They are just the perfect size.
Bags that are too small or too large are common problems for men when shopping for handbags. Even though bum bags are extremely popular right now, their small size can be restrictive if you need to carry more than a wallet and a key.
This is a reason why men can carry backpacks as an alternative. However, backpacks tend to be large and cumbersome, making them unsuitable for carrying your everyday essentials. Additionally, if you're carrying a lot of gadgets, they might get scuffed.
Sling bags for men in leather are an excellent choice because of this. To get the most out of your Woosir sling leather bag, you'll need to choose one that has plenty of room for all of your belongings.
You can secure your valuables in the anti-theft compartment.
It is imperative for you to keep your most valuable possessions (passport, wallet, cash, etc.) in a safe place.
It is for this reason that this anti-theft backpack features a zippered compartment on the strap. It allows you to keep your valuables close and out of the hands of pickpockets. Sling backpacks are best worn on the front of your torso, so that you can always access the bag's special pocket.
The Woosir Genuine Leather Small Sling Bag for Men is a great option for a smaller pack. This pack has plenty of room for your essentials, but it's also light and compact, so you won't have to carry it around with you all day.
Buy the best mens sling backpacks
Men's sling bags provide ample storage and are ideal for everyday use. The fact that they are so adaptable and provide a variety of organizational options makes it worthwhile to shop around. All of the above choices are great investments in the long run as sling bags are ideal for everyday use.