How to Find the Best Deals on Wholesale Canvas Backpacks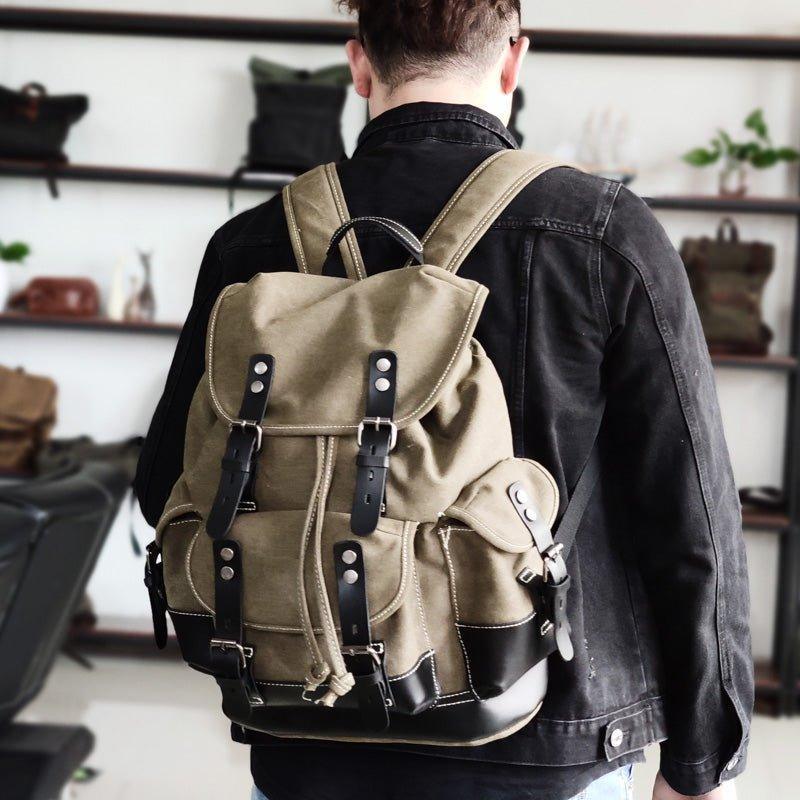 Introduction
If you're in the market for wholesale canvas backpacks, finding the best deals is essential to maximize your savings and get high-quality products. Whether you're a retailer looking to stock your store or an individual seeking bulk backpacks for personal use, this comprehensive guide will provide you with expert tips and strategies to find the best deals on wholesale canvas backpacks. From online platforms to trade shows, we'll explore various avenues that can help you secure excellent deals and ensure your satisfaction as a buyer.


How to Find the Best Deals on Wholesale Canvas Backpacks

Researching Online Marketplaces
One of the most convenient ways to find wholesale canvas backpack deals is by exploring online marketplaces. These platforms offer a vast array of options from different sellers, allowing you to compare prices, product specifications, and customer reviews.
Exploring e-commerce giants like Amazon:
Visit Amazon's Wholesale section and search for canvas backpacks to find a wide selection of sellers offering competitive prices.
Utilize the filtering options to refine your search based on factors like price, customer ratings, and shipping options.
Read product descriptions, customer reviews, and seller ratings to make an informed decision.
Browsing wholesale marketplaces:
Explore dedicated wholesale marketplaces like Alibaba, where you can find a plethora of wholesale suppliers offering canvas backpacks at competitive prices.
Pay attention to the seller's reputation, ratings, and reviews from previous buyers.
Contact sellers directly to negotiate prices, discuss shipping options, and inquire about minimum order quantities.
Attending Trade Shows and Exhibitions
Trade shows and exhibitions provide an excellent opportunity to connect with wholesale suppliers, manufacturers, and distributors directly. These events often feature a wide range of products, including canvas backpacks, and offer attractive deals for bulk purchases.
Identifying relevant trade shows
Research industry-specific trade shows and exhibitions that focus on backpacks, bags, or fashion accessories.
Check the event schedules, locations, and exhibitor lists to find out which shows are most relevant to your needs.
Engaging with suppliers at trade shows
Interact with suppliers, ask questions about their products and pricing, and discuss potential partnerships.
Take advantage of the face-to-face interaction to negotiate deals, inquire about customization options, and build relationships with suppliers.
Contacting Manufacturers and Distributors
Directly contacting manufacturers and distributors can often lead to competitive deals on wholesale canvas backpacks. By cutting out middlemen, you can potentially negotiate better prices and establish long-term partnerships for your business.
Identifying manufacturers and distributors
Research reputable manufacturers and distributors that specialize in canvas backpacks.
Look for companies with a proven track record, positive customer feedback, and a commitment to quality.
Initiating contact and negotiating deals:
Reach out to manufacturers and distributors via email or phone, expressing your interest in purchasing wholesale canvas backpacks.
Inquire about bulk pricing, minimum order quantities, customization options, and shipping details.
Don't hesitate to negotiate to ensure you're getting the best possible deal.
Frequently Asked Questions
Q: How can I ensure the quality of wholesale canvas backpacks?
A: It's crucial to research and choose reputable suppliers who prioritize quality materials and craftsmanship. Read customer reviews and ask for product samples if possible.

Q: Are there any specific certifications I should look for when purchasing wholesale canvas backpacks?
A: Look for certifications such as ISO, BSCI, or REACH, which indicate compliance with quality standards and ethical manufacturing practices.

Q: Can I request customizations or branding on wholesale canvas backpacks?
A: Many suppliers offer customization options, including adding logos, colors, or specific design features. Discuss your requirements with the supplier to determine if customization is possible.
Q: What is the average lead time for wholesale canvas backpack orders?
A: Lead times can vary depending on the supplier and order quantity. Discuss this with the supplier during negotiations to ensure it aligns with your timeline.

Q: Are there any additional costs associated with wholesale purchases, such as shipping or import duties?
A: It's important to consider additional costs, such as shipping fees, import duties, and taxes, which may vary depending on the supplier's location and your country's regulations.
Q: Can I request product samples before placing a wholesale order?
A: Some suppliers may provide product samples for a fee or as part of the negotiation process. Inquire about sample availability and associated costs.
Conclusion
Finding the best deals on wholesale canvas backpacks requires thorough research, exploration of various marketplaces, attending trade shows, and engaging with manufacturers and distributors. By utilizing online platforms, attending industry events, and establishing direct connections, you can secure competitive prices, ensure product quality, and build successful partnerships. Remember to consider factors like customization options, lead times, and additional costs when making your purchasing decisions. With these expert tips, you're now equipped to navigate the wholesale market and find the best deals on canvas backpacks.