How to Choose the Perfect Canvas Camera Bag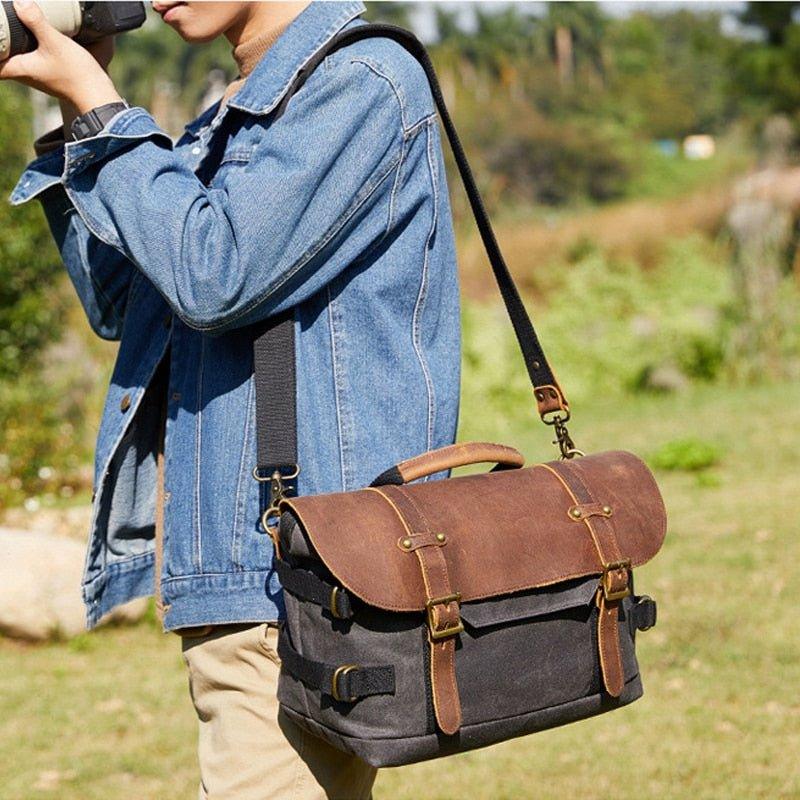 Introduction
Choosing the perfect canvas camera bag is essential for photographers who want to protect their valuable equipment while also expressing their personal style. A canvas camera bag provides durability, protection, and functionality, ensuring that your camera, lenses, and accessories are safe and easily accessible. In this article, we will explore the factors to consider when choosing the perfect canvas camera bag that suits your needs and enhances your photography experience.
Understanding Your Needs
Before diving into the world of canvas camera bags, it's crucial to understand your specific needs as a photographer. Ask yourself the following questions:

What type of photography do you primarily engage in? (e.g., landscape, portrait, wildlife)
How much equipment do you usually carry with you on your photography outings?
Do you require quick access to your camera and lenses?
Will you be traveling with your camera bag?
What is your preferred style and aesthetic?
By understanding your needs, you can narrow down your options and find a canvas camera bag that aligns with your requirements.
Factors to Consider
When choosing a canvas camera bag, several factors come into play. Let's explore each one in detail:


The size and capacity of the camera bag are crucial considerations. Ensure that the bag can comfortably accommodate your camera body, lenses, batteries, memory cards, and other accessories. Look for adjustable dividers and compartments to customize the interior according to your equipment. It's essential to strike a balance between sufficient storage space and portability.
Durability and Protection
A canvas camera bag should offer durability and excellent protection for your gear. Check for reinforced stitching, padded interiors, and weather-resistant materials. Canvas bags with additional features like built-in rain covers or waterproof coatings provide an extra layer of protection against the elements.
Efficient organization and easy access to your equipment are vital for seamless photography sessions. Look for a camera bag with multiple pockets, zippered compartments, and dedicated slots for memory cards and filters. Quick access pockets or side openings allow you to retrieve your camera without hassle, ensuring you never miss a shot.
Consider the comfort and convenience of carrying the camera bag. Look for adjustable padded straps and ergonomic designs that distribute the weight evenly. A bag with a sturdy handle or top grab strap offers additional carrying options. Pay attention to the bag's weight distribution and padding to ensure long-lasting comfort during extended photography adventures.
A canvas camera bag is not only a functional accessory but also a fashion statement. Choose a bag that reflects your personal style and aesthetic preferences. Whether you prefer a classic vintage look or a modern and sleek design, there's a canvas camera bag out there to match your taste. Explore different colors, patterns, and finishes to find a bag that resonates with your unique style.
Set a budget for your camera bag purchase. Canvas camera bags are available at various price points, and it's essential to find one that offers the right balance between quality and affordability. Consider the features, materials, and brand reputation when determining the value for money.
Before making a final decision, take the time to read customer reviews and testimonials. Online platforms and photography communities often provide valuable insights into the performance and durability of different camera bags. Learn from the experiences of fellow photographers to make an informed choice.
Conclusion
Choosing the perfect canvas camera bag is an exciting process that combines functionality, protection, and personal style. By understanding your needs, considering factors like size, durability, organization, comfort, style, and budget, you can find a camera bag that perfectly suits your requirements. Remember to read customer reviews and gather feedback from the photography community to ensure you're making a well-informed decision. Invest in a high-quality canvas camera bag that will be your trusted companion on countless photography adventures.