How To Choose A Backpacking Pack Size?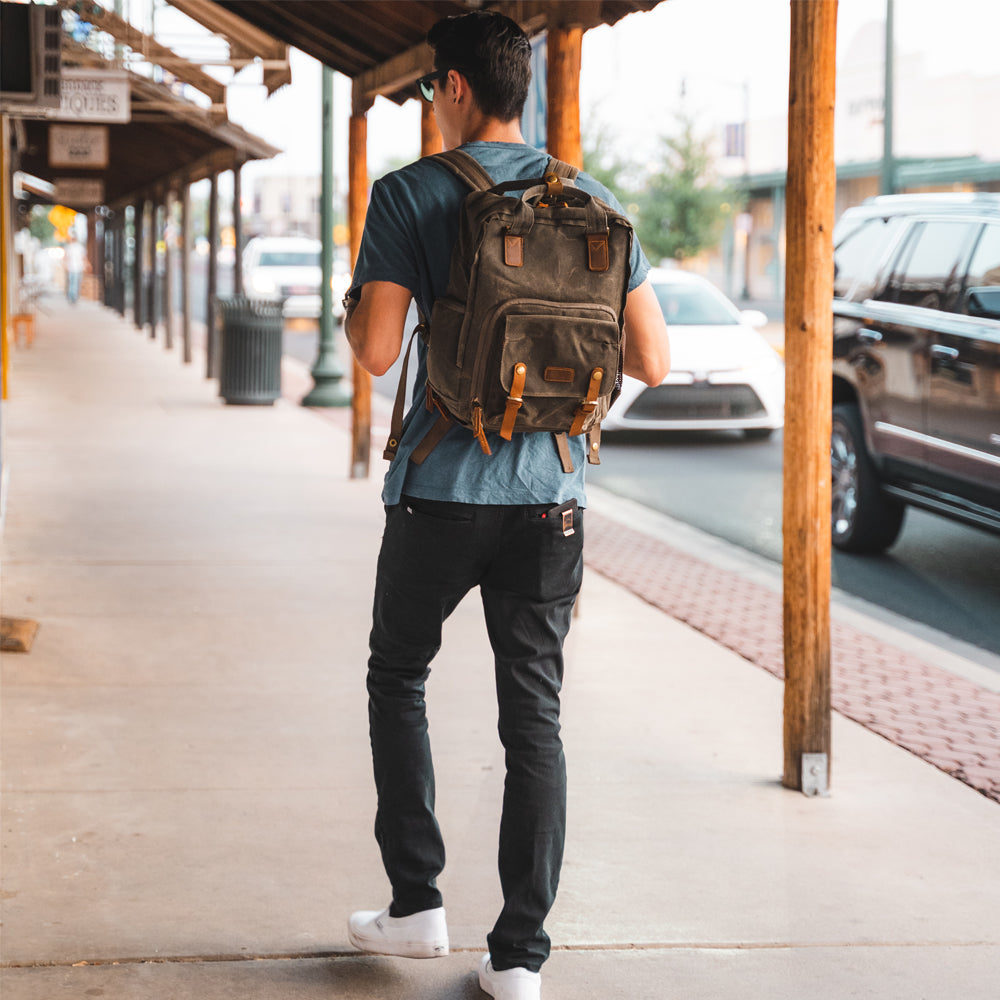 Choosing the right fit and size of a backpack is one of the most crucial decisions before you gear up for a trip. This is because you'll be wearing your backpack or carrying it practically everywhere, at every waking moment, for as long as your trip lasts.
Each model of the backpack is distinct in its own way. Some backpacks have unique suspensions to help you achieve easy carry while maintaining airflow behind your back. Others come in a simple design with basic features to ease the weight.
The list is practically endless. And since much of this selection depends on personal preference, let's dive into the following guide covering backpack sizes, fit, and features to help you make the right choice! 
Backpack Capacity/Sizes
The backpack size depends on how much bulk and weight you wish to carry and the trip's duration. Here are 4 different backpack sizes you can choose from:
Overnight Packs: Less than 35 liters
Smallest of the packs, overnight packs are mainly designed to accommodate sufficient food and gear for 1-2 nights.
They are ideal for light packers. The equipment you will need to strap to the outsider or fit comprises a sleeping setup (such as a pad, sleeping bag, or tent) and an additional outer layer.
Overnight packs are best suited for desert camping, probably without a tent, where you can enjoy sleeping under the studded skies on a perfectly warm summer night.
Weekend Pack (1-3 nights): 35-50 liters
A weekend backpack such as a standard 40-liter backpack is humongous enough to accommodate a sleeping bag, pad, small tent, and some additional layers and clothing.
You can also carry essential cookware, food, a tiny stove, a first aid kit, a water purifier/filter, and some navigation tools.
Based on your packing skills, there might still be space left to fit in glamping items such as a small camping lantern, lightweight chair, or a coffee press. 
Multi Day Packs (3-5 nights): 50-75 liters
Light packers will find it convenient to carry a multi day backpack containing sufficient room for 5 or more nights, usually 50-75 liters. They are designed to carry more cooking fuel and food than a weekend backpack and some additional layers and clothing items.
Extended-trip (5+ nights): More than 70 liters
Trips over 5 days typically require extended trip packs of over 70 liters. Larger packs tend to fit in extra clothes, a 4-season tent comprising poles, a warmer sleeping bag, etc.)
They're ideal for winter treks or expeditions that last more than one night or family-friendly backpacking when there is a lot of kids' gear, mountaineering equipment, warmer and comfier sleeping arrangement, survival gear, etc.
Backpack Features
Once you have chosen a backpack size, you must determine what features matter most. While some features will undoubtedly add to their cost, they will significantly boost convenience and comfort. Some sought-after features in a backpack include: 
Frame Type
You can choose from two types of packs — internal vs. external frames. 
●
External Frame
Packs with external frames are deemed to be an original style of backpacks. Even though they aren't as popular now, they offer some perks, including the ability to carry substantial loads, better ventilation, the option to strap more gear on the outer side, and overall lower prices and higher durability. 
●
Internal Frame
Packs with internal frames have smaller suspension systems, utilize various lightweight materials, have a lower profile, and are lighter than their counterparts. This makes them more useful and better suited in constricted quarters like dense trails.
Off the trail, the more streamlined shape of internal frame packs makes them simpler to be carried in a plane or a car. Since you will carry the load close to your body in a more compact configuration, your mobility and balance will be significantly better. 
●
Frameless
Ultralight packers who prefer light and fast hiking can opt for a frameless or a climbing pack where there is a removable frame for weight savings. However, frameless packs are not suitable for heavy loads. 
Shoulder and Hip Belt Padding
While carrying a backpack, you can expect a significant part of your pack's weight to be around your hips (around 80-90%). So the heavier your backpack is, the more hip belt and shoulder padding matter.
You must ensure sufficient shoulder and hip padding for weeklong and weekend packs. As a result, you must look for these designs and features:
Some brands offer customizable hip belts, such as heat molding, which significantly boost comfort.
Pivoting hip belts can help improve balance and comfort in the pack's suspension as the pack will not shift that much around as much as your hips move. 
The use of lightweight and mesh foams makes it possible for packs to be more comfortable during the hotter months. 
Hip belts with accessory pockets make it super easy and convenient to access snacks, gadgets, and other necessities. 
Ventilation
Ventilation plays a significant role, especially if you are backpacking in the warmer months. Materials such as perforated foam, lightweight mesh, and unique framing systems enable the back panel to stay away from the skin and add to your comfort.
Removable Lids
Various models have top flaps (lids) that are ideal for accommodating small items for easy access and are also removable to use as a lumbar pack.
This is an excellent feature for packers who set up a base camp and plan to hike in the day from there only, offering them a convenient way to carry small and portable items. 
Rain Cover
A few packs are equipped with integrated rain covers that can be tucked away when not used. In contrast, some other pack models might have them separately available. 
Hydration Compatibility
There are 2 ways to access and transport water on the trail. Water reservoirs make it super convenient to get enough liquids, ranging in around 13 liters in capacity. If you go for a compatible pack, it'll have a hook to store the bladder vertical and a separate sleeve to slide into.
The shoulder harness also features a port and slip to keep the mouthpiece and tubing accessible. Water bottle pockets can be useful if you aren't using a hydration system. The biggest plus point of water bottles is that they're less likely to fail and comparatively easier to fill using a water purifier/filter. 
External Attachments
External attachments such as daisy chains, loops, bungees, etc., can help add versatility to your backpack. They significantly increase capacity by allowing you to fit in extra gear on the pack's exterior or provide a way to expose items to air and sun.
With compression straps, you can cinch down the pack to a more petite size when it is less occupied, preventing unnecessary shifting.
Backpack Fit
The fit of your pack must be sized appropriately according to your torso length and hip circumference. Here is what helps you determine the right backpack fit.
Torso Length
A few backpacks come in various sizes, from large to extra small, accommodating an array of torso lengths. Most packs also include adjustable suspensions and can be tailored according to your torso. However, this feature does add additional weight to the pack. 
Waist Size
Around 80% (or more) of the pack's weight must be supported by your hips. The pack's hip belts typically fit in an array of hip circumferences, from mid-20 to mid-40 inches.
Individuals with slimmer waists often find it hard to make standard hip belts tight enough and are ultimately required to purchase a smaller size. A few packs feature interchangeable belts, allowing you to replace one with another.
How to Choose Backpack Size
Two main elements contribute to the proper fit and size of a backpack:
The suspension system's length.
The hip belt's size.
If the size of the hip belt is too big, it won't be possible to carry all the load efficiently. The majority of the weight must rest on your hips. This enables the weight to be equally dispersed to your muscles and larger bones.
All packs are equipped with a flexible hip belt. However, a few backpacks go a tad further in offering interchangeable belts to achieve a balanced dialed-in fit. 
The shoulder harness system also works like that. The length of your torso or back sizes the packs. The measurement must start from your C7 vertebrae down to your iliac crest.
The measurement will likely be in the range of 16-23 inches, so you must look for your specific measurement based on the pack's sizing chart. 
Shop for the Best Backpacks at Woosir.com
If you have a passion for outdoor activities and are in pursuit of high-performance and premium quality products, you are in the right place. At Woosir Sports Gear, you can find a vast array of outdoor items like hiking bags, leisure backpacks, messenger backs, tactical bags, cycling bags, briefcases, and so much more. 
Woosir backpacks are designed with extraordinary attention to detail and made with the finest material. These backpacks are known for providing the perfect arrangement of functionality and quality.  
A canvas backpack is incredibly popular and long-lasting, and you can find a plethora of unique designs and styles of canvas backpacks at Woosir that are not only stylish but are simply perfect for any opportunity.
Woosir offers an impressive collection of high-quality and high-performing waxed canvas backpacks in various earthy-toned colors and designs. They are incredibly comfortable, durable, versatile, stylish, trendy, and reasonably priced.
With so many different designs, colors, and styles to choose from, you can rest assured there is something of interest for everyone at Woosir!
On top of that, all Woosir backpacks are waterproof! With so many different designs, colors, and styles to choose from, you can rest assured there is something of interest for everyone at Woosir!