How to Care for Your Men's Leather Laptop Bag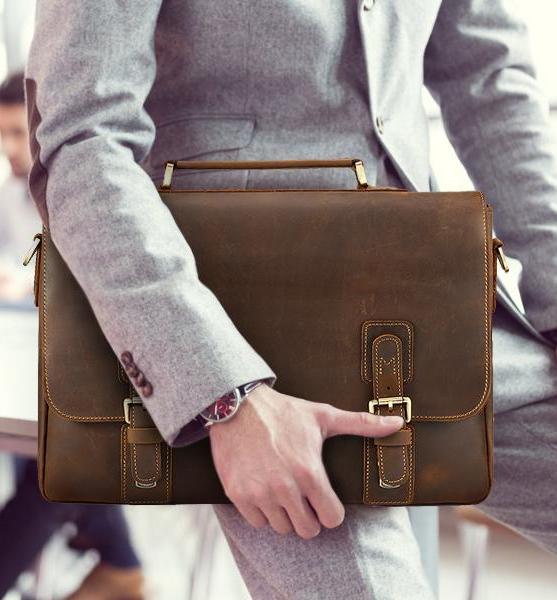 Introduction
Hey there, leather laptop bag enthusiasts! We're diving into the nitty-gritty of leather care today. Your trusty leather laptop bag is more than just an accessory; it's a statement piece and a practical companion for your tech gear. So, let's get down to business and uncover the secrets of keeping your men's leather laptop bag in tip-top shape. In this comprehensive guide on "How to Care for Your Men's Leather Laptop Bag," we'll address all your leather-related concerns, leaving no stone unturned.
Cleaning Your Leather Laptop Bag
What You'll Need
When it comes to cleaning your leather laptop bag, there are a few essentials to have on hand. These include:

A soft, lint-free cloth
Leather cleaner or a mixture of mild soap and water
Leather conditioner
A soft brush or toothbrush
A well-ventilated area
Time and patience
Step-by-Step Cleaning Process
Follow these steps to keep your bag clean and pristine:


Start by emptying your bag, ensuring nothing is inside that could get damaged during cleaning.
Using a soft, lint-free cloth, gently wipe the surface to remove loose dirt and dust.
Create a solution by mixing a small amount of mild soap with water, or use a leather cleaner if you have one.
Dampen a corner of your cloth with the solution and test it on an inconspicuous spot on your bag.
If the test patch looks good, gently rub the entire surface with the soapy cloth. Be sure not to oversaturate the leather.
Use a separate damp cloth to wipe away any soap residue.
Allow your bag to air dry in a well-ventilated area, away from direct sunlight or heat sources.
Once it's dry, gently brush the leather with a soft brush or toothbrush to restore its shine.
Finally, apply a leather conditioner to keep the leather supple and nourished.
Storing Your Bag
Your leather laptop bag deserves a cozy home, and here's how to provide one:

Keep it in a dust bag or a pillowcase when not in use to protect it from dust and scratches.
Store it in a cool, dry place away from direct sunlight, as excessive heat can dry out and damage the leather.
Avoid overstuffing your bag, as this can lead to stretching and distortion of the leather.
Stand it upright, so it maintains its shape, and stuff it with soft material if needed.
Use a leather conditioner every few months to prevent the leather from drying out and cracking during storage.
Handling Common Leather Bag Issues
Scratches: Minor scratches are inevitable, but you can diminish their appearance by gently rubbing them with your finger. The natural oils from your skin can often do wonders. If the scratches are deeper, consult a professional leather repair expert.
Stains: For ink, oil, or grease stains, consult a professional cleaner. For water spots, gently rub the leather to redistribute the moisture evenly, then let it dry naturally. Avoid using heat sources to speed up the process.
Mold: If you notice mold on your leather bag, don't panic! Dampen a cloth with vinegar and water, then gently wipe the affected area. Let it air out and apply a leather conditioner to prevent the leather from drying out.
FAQs - All Your Burning Questions Answered
Q: How often should I clean my leather laptop bag?
A: Ideally, you should clean your bag every few months or when it appears dirty. However, regular light cleaning and conditioning can help maintain its appearance.

Q: Can I use household cleaners to clean my leather bag?
A: We recommend using a leather cleaner or a mild soap and water solution specifically designed for leather. Household cleaners can be too harsh and may damage the leather.

Q: Can I use a hairdryer to speed up the drying process?
A: Avoid using a hairdryer or any heat source to dry your leather bag, as it can lead to cracks and other damage. Let it air dry naturally in a cool, well-ventilated area.

Q: What's the best way to protect my leather bag from water damage?
A: Prevention is key! Treat your leather bag with a water repellent spray designed for leather. However, if your bag gets wet, let it air dry naturally and avoid heat sources.
Conclusion
There you have it, folks – the ultimate guide on "How to Care for Your Men's Leather Laptop Bag." Your prized possession deserves the best, and with the right care, it will age gracefully and stand the test of time. So, don't wait! Get your cleaning essentials, follow our step-by-step guide, and give your leather laptop bag the love and care it deserves. Happy bag maintenance, and may your bag always be a statement of style and sophistication!

Remember, your leather laptop bag isn't just a bag; it's a companion on your journey. Treat it well, and it'll serve you faithfully, whether you're conquering the corporate world or exploring new horizons. Cheers to well-preserved leather and timeless style!