Discover the Many Uses of Multipurpose Canvas Tote Bags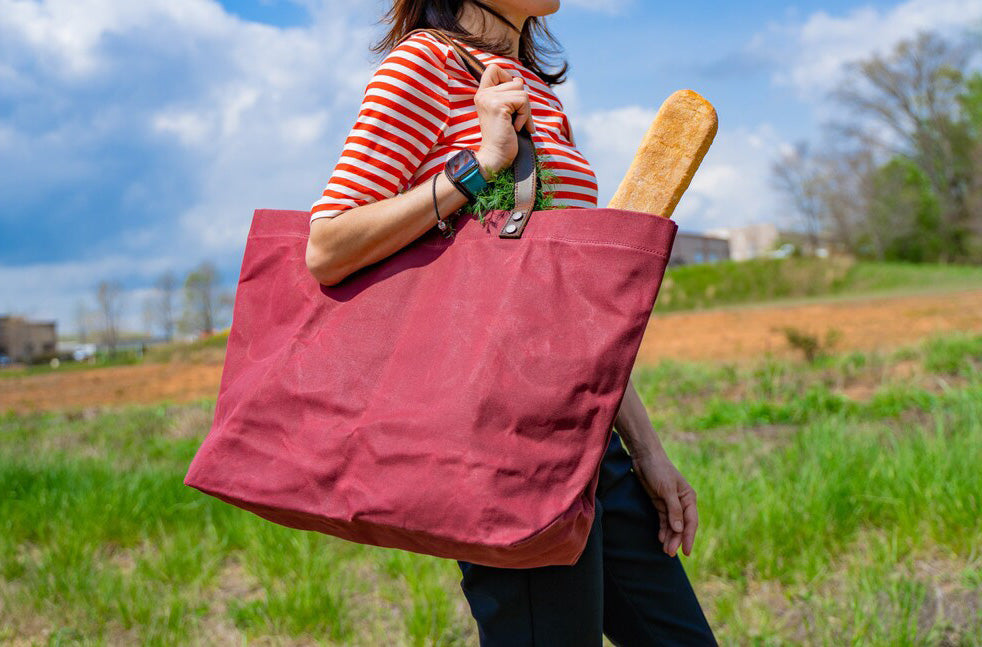 Canvas tote bags have become an indispensable accessory for many people, offering an affordable, sturdy, and eco-friendly alternative to single-use plastic bags. But canvas totes are useful for much more than just carting groceries. Let's explore the many ways these versatile bags can make life easier.
What Are Canvas Tote Bags?
Canvas tote bags are typically made from dense cotton canvas or a canvas-blend material. Their durable woven construction makes them stronger than paper or plastic bags. Canvas totes come in a wide range of sizes with different types of handles and straps. Most feature a basic open-top design that provides easy access to contents.
Compared to other bag materials, canvas offers advantages like:
Strength and durability:

 

The thick woven cotton stands up to heavy contents and regular use.
Washability:

 

Most canvas totes can be tossed in the washing machine when dirty.
Breathability:

 

The fabric "breathes" better than materials like vinyl.
Customization:

 

Canvas can be screen printed with any design or logo.
Sustainability:

 

Canvas is a natural fiber and reusable over many years.
With proper care, a high-quality canvas tote can last for decades! Now let's explore some of the best uses for these multipurpose bags.
Use Them as Reusable Grocery Bags
One of the most popular uses for canvas tote bags is as reusable grocery bags. Sturdy canvas totes can carry all your shopping essentials trip after trip. Using reusable bags for groceries provides environmental benefits and will save you money in the long run.
Canvas grocery totes are ideal because they are:
Durable:

 

Withstand repeated use and laundering.
Roomy:

 

Fit lots of items without ripping or breaking.
Washable:

 

Easily cleaned at home as needed.
Eco-Friendly:

 

Much better for the environment than single-use plastic bags.
Cute:

 

Stylish designs replace ugly plastic bags at checkout.
With a set of roomy canvas grocery totes, you'll be ready to tackle the checkout line during your weekly shopping trips.
Take Them to the Beach or Pool
When heading to the beach or pool, a waterproof canvas tote bag is the perfect accessory. The dense canvas material is naturally water repellant, so your belongings will stay dry inside the tote. And the smooth fabric won't attract sand either.
Use a canvas beach tote to carry:
Towels, swimsuit coverups, and dry clothes
Sunscreen, lip balm, sunglasses, and other essentials
Water bottles, snacks, and lunch
Magazines, books, and electronics
Kids' toys, floaties, and activities
A canvas tote keeps wet swim gear separate from dry belongings. With pockets to organize gear, you'll have everything you need for a day by the water.
Take Them to Work or School
Tote bags aren't just for the grocery store! They also work perfectly as professional work bags or book bags for school.
Canvas totes make ideal work or school bags because they are:
Affordable:

 

Inexpensive compared to leather briefcases or backpacks.
Roomy:

 

Fit laptops, files, books, lunch, and more.
Professional:

 

Look pulled together when embroidered with a logo.
Comfortable:

 

Lightweight with padded straps.
Customizable:

 

Can be branded for companies or clubs.
For work, choose a polished canvas tote with plenty of pockets to keep your electronics, notes, and supplies organized. As a book bag, a canvas tote holds all your textbooks, notebooks, calculator, and more.
Take Them While Traveling
When jet setting across town or around the world, a packable canvas tote bag is a travel essential. The lightweight bag tucks neatly into luggage when not in use. Then when you're out sightseeing and shopping, it's ready to carry all your souvenirs and purchases.
Reasons a canvas tote bag is perfect for travel:
Folds up compactly when empty.
Lightweight and easy to carry all day.
Roomy to hold guidebooks, camera, wallet, water bottle, and more.
Can be used as a personal item on flights.
Doubles as a beach/pool bag.
Makes a nice embroidered souvenir.
Having your own reusable canvas tote while traveling means you can say no thanks to plastic bags as you shop!
Use Them for Shopping and Errands
Big box stores aren't the only places canvas tote bags come in handy. They are great accessories for all your daily errands and shopping excursions.
The benefits of using a tote bag for errands:
No more plastic bags:

 

Better for the environment.
Carry more:

 

Holds all your purchases and essentials.
Hands free:

 

Shoulder straps free up your hands.
Chic:

 

Cute tote displays your style.
Protected purchases:

 

Keeps items together and undamaged.
Organized:

 

Interior and exterior pockets keep your stuff in order.
Strong, spacious, and stylish, canvas tote bags are useful sidekicks for everything from grocery runs to mall trips.
Factors That Impact Durability and Quality
Not all canvas totes are created equal when it comes to durability and quality. Some key factors impact how well a bag will hold up over time:
Materials
Cotton vs. canvas:

 

Cotton canvas is more durable than plain cotton.
Coated/uncoated:

 

Wax or vinyl coatings add weather resistance.
Recycled canvas:

 

Repurposed fabric helps the planet.
Construction
Stitching:

 

Double stitching is stronger than single.
Seams:

 

Non-tearing reinforced seams last longer.
Hardware:

 

Durable metal or plastic lasts longer than cheap hardware.
Size and Handles
Bag dimensions:

 

Wider and taller holds more.
Strap drop:

 

Long enough for shoulder or cross body carrying.
Handle attachments:

 

Well-secured handles don't rip out.
Buying a canvas tote from a reputable brand ensures you get maximum durability and quality.
Pick the Right Size For Your Needs
Canvas tote bags come in a wide range of sizes to suit different purposes. Consider where and how you will use your bag to pick the ideal dimensions.
Common Sizes
Small:

 

12" W x 12" H x 5" D
Medium:

 

15" W x 16" H x 6" D
Large:

 

18" W x 20" H x 8" D
Extra large:

 

22"+ W with deep base
Factors That Impact Size Needs
Volume needed to carry items
Portability for everyday use
Vehicle storage space
Creation of "closet" organization system
Personal preference for bag size
In general, larger dimensions give you more flexibility. But don't go too big if you want an easy-to-carry errand companion.
Evaluate Different Styles and Designs
These days, canvas tote bags are available in almost endless colors, prints, and decorative details. Consider your personal style preferences when picking a tote.
Color Choices
Classic solids like black, navy, tan, red
Bold brights and pastels
Natural undyed canvas
Ombre or colorblock effects
Prints and Patterns
Florals, stripes, polka dots, plaid, paisley, geometric, abstract
Novelty prints with phrases, icons, motifs
Monograms of initials or name
Decorative Details
Contrasting straps or trim
Shirring, ruffles, fringe, pom poms
Embroidery, applique, patchwork
Keep it simple or make a statement! The right tote can become a fun part of your wardrobe.
Compare Handle and Strap Options
How the bag carries is an important consideration when purchasing a canvas tote. Compare different handle and strap configurations.
Types of Handles
Short handles:

 

Easy to grab and go.
Long shoulder handles:

 

Allow bag to hang at your side.
Rolled or twisted handles:

 

Add visual interest.
Straps
Adjustable/detachable:

 

Change length or remove as needed.
Crossbody strap:

 

Hands-free carrying across the body.
Other Carry Options
Dual straps and handles:

 

Multiple ways to carry.
Backpack straps:

 

Distribute weight evenly.
Try a tote on with your typical loads to ensure optimal comfort and ease of carrying.
Get Organized with Pockets and Sections
For maximum organization, look for a canvas tote with special storage features and pockets.
Interior Pockets
Open pockets:

 

For items you access frequently.
Zippered pockets:

 

Secure storage for valuables like phone and wallet.
Exterior Pockets
Snap or zip pockets:

 

Quick outer access.
Vertical side pockets:

 

Fit water bottles or umbrellas.
Other Organizational Features
Key clip:

 

Never lose keys in the abyss of your bag!
Pen slots:

 

Keep writing utensils handy.
Dividers or sections:

 

Designated storage.
Pockets and compartments keep your stuff neatly stashed but easy to find. No more digging around your giant tote!
Make It Personal with Customization
One of the best features of canvas tote bags is how easy they are to customize. From monograms to embroidered designs, make your bag uniquely you!
Monogramming
Add an embroidered monogram or name in a contrasting floss color. Choose block letter, script, or other fun font styles.
Embroidery
Embellish with embroidered shapes, floral motifs, animals, initials, phrases or names.
Fabric Markers
Decorate yourself with fabric paint pens in any design. Heat set the ink after coloring.
Applique and Patchwork
Sew on applique shapes or attach fabric patches and trims for a homemade look.
Screen Printing
Print full color photos, artwork or designs. Great for branding company logos.
Unleash your creativity! It's easy and affordable to design a one-of-a-kind canvas tote.
Keep Them Looking New with Proper Care
With some basic care, your canvas tote can look great for many years of use. Follow these tips to maintain its good looks and durability.
Washing
Machine wash cold and tumble dry low.
Wash bags before first use to prevent dye transfer.
Avoid bleach, which can damage the canvas fibers.
Wash alone or with like colors to prevent staining.
Drying
Tumble dry low to refresh shape and avoid mildew.
Or air dry out of direct sunlight.
Store folded or stuffed to retain shape.
Spot Cleaning
Use a damp cloth with mild soap to spot clean.
Allow to fully dry open and upright.
With proper care, canvas tote bags will provide years of faithful service!
Shop Top Brands Known for Quality
When investing in a durable high-quality tote, you can't go wrong with these top retailers known for their canvas bags.
Major Retailers
Stores like Lands End, L.L. Bean, Baggu, and Boden offer timeless styles:
Lands End -

 

Iconic for sturdy canvas totes with customized monogramming options.
L.L. Bean -

 

Known for their durable, made in Maine canvas boat totes.
Baggu -

 

Trendy reversible prints and compact, packable designs.
Boden -

 

Whimsical British brand with coated cotton Poppet totes.
Boutique Accessory Brands
Stylish brands like Ally Handbags, Anewall, Kate Spade, and LeSportsac design fashionable canvas bags:
Ally Handbags -

 

Chic leather-trimmed canvas in a rainbow of colors.
Anewall -

 

Customizable embroidery in a variety of feminine silhouettes.
Kate Spade -

 

Signature spade motif on structured coated totes.
LeSportsac -

 

Classic nylon and leather weekenders and duffels.
Sustainable Companies
Eco-conscious brands like EcoCart, Bamboozle, Earthwise Reusables, and Eco Bags offer earth-friendly designs:
EcoCart -

 

Organic cotton totes sustainably sourced and printed with nontoxic inks.
Bamboozle -

 

B-Corp certified company using preconsumer recycled fabrics.
Earthwise Reusables -

 

Small woman-owned business selling natural fiber bags.
Eco Bags -

 

Leading maker of recycled polypropylene bags made in the USA.
Compare Prices for the Best Value
When shopping for a canvas tote bag, prices typically range anywhere from $15 on the low end to $50+ for higher-end designer bags. Here are some factors that impact costs:
Materials used - canvas vs. cotton vs. jute vs. recycled
Overall construction quality - stitching, reinforcements, lining
Origins - handmade or imported bags cost more
Brand reputation - premium for brands like Coach, Kate Spade, etc.
Customization - monograms, embroidery, printing add cost
Size - larger and thicker bags use more material
Extras - pockets, straps, closures, hardware, etc.
Where to Find Deals:
Department store sales - places like Macy's, Nordstrom, etc.
Brand sites - especially around the holidays
Secondhand - gently used bags on resale sites
Membership sites - Sam's Club, Costco
Comparison shop to find the perfect bag at the best price for your budget!
Conclusion
A sturdy canvas tote bag is one of the most versatile accessories you can own. With incredible durability and a lightweight packable design, canvas bags come in handy for everything from grocery shopping to traveling to toting books or electronics.
Choose a high-quality bag from a reputable brand for a long-lasting bag. Look for thick tightly-woven canvas with reinforced seams and stitching. Then personalize your tote with a monogram or embroidery to reflect your style.
Canvas totes make excellent eco-friendly substitutes for wasteful plastic bags. And they can save you money in the long run compared to constantly buying disposable bags.
Give canvas tote bags a try, and you'll soon wonder how you ever lived without this multipurpose essential! They are some of the most useful bags ever invented.