Demystifying Leather Types for Men's Laptop Bags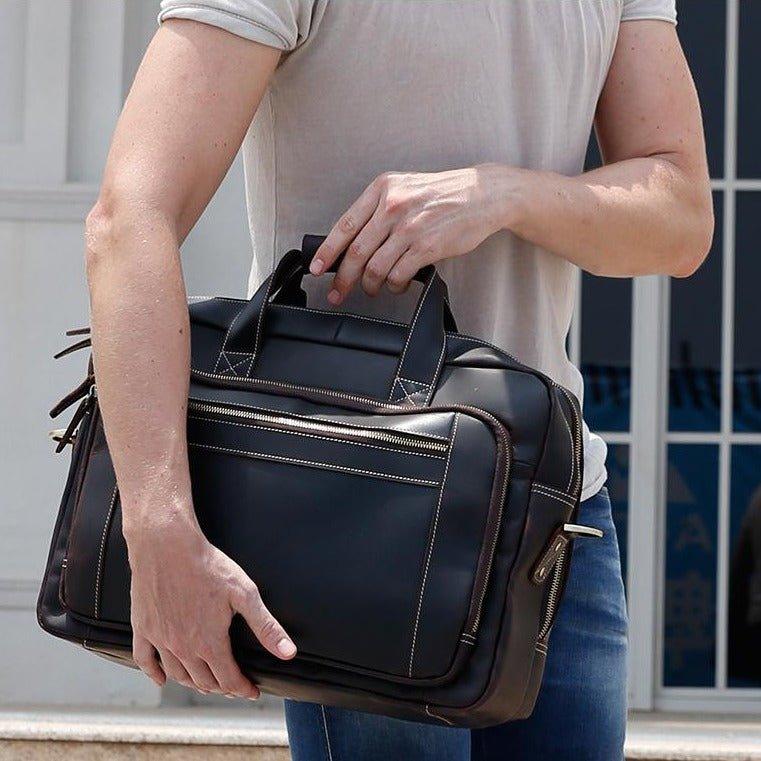 Introduction
Hey there, folks! Ever been puzzled by the plethora of leather options when it comes to choosing a laptop bag that oozes style and durability? Well, you're not alone! In this article, we're diving deep into the realm of men's laptop bags and demystifying the fascinating world of leather types. Whether you're a seasoned leather aficionado or just looking to up your laptop bag game, we've got your back. So, let's unravel the mystery of leather, shall we?
Unmasking the Leather Types
Full-Grain Leather: The King of the Jungle
Ever wondered what makes a laptop bag truly regal? Full-grain leather is the answer!
What's its deal? It's sourced from the top layer of the hide, warts and all.
Why's it special? It rocks a rugged charm, developing a patina that's the envy of all other leather types.
Is it tough? Absolutely! It scoffs at moisture and scratches, built to withstand the test of time.
Top-Grain Leather: Smooth Operator
What's the buzz about top-grain leather? It's the suave sibling of full-grain.
How's it made? They sand it down, smooth out the wrinkles, and voilà!
What's the look? It's sleek and polished, though not as distinct as full-grain.
Is it sturdy? You betcha! It ages gracefully and keeps your laptop safe and sound.
Genuine Leather: The Misleading Maverick
Why's it called genuine leather? It's real alright, but not top-tier.
What's the catch? It hails from layers below the top-grain, losing some pizzazz.
How's it look? Uniform, yet lacking the flair of its fancier counterparts.
How long does it last? While it's decent, it may not grow old as gracefully.
Bonded Leather: The Undercover Agent
Bonded leather, what's the scoop? It's more Frankenstein than leather.
What's it made of? Leather scraps mashed up, not exactly sturdy.
Does it endure? Sadly, no. Over time, it's more likely to peel than impress.
FAQs - Your Burning Questions, Answered
Can you spill the beans on full-grain leather's longevity?
Absolutely! Full-grain leather is the marathon runner of the leather world. It's built to last, aging like fine wine.
How does top-grain leather hold up against wear and tear?
Top-grain leather? It's the James Bond of laptop bags. Smooth, sleek, and can handle a few punches, but it's not invincible.
Is genuine leather worth the buy?
Genuine leather has its merits, especially if you're watching your wallet. It'll get the job done without breaking the bank.
What's the deal with bonded leather?
Bonded leather? Well, it's more like a secret agent with a limited shelf life. Not your best bet for a long-lasting laptop bag.
Conclusion
So, there you have it, folks! Demystifying leather types for men's laptop bags, we've taken you on a leather-clad adventure. Full-grain, top-grain, genuine, and bonded leather – each with its own story to tell. Remember, the "Demystifying Leather Types for Men's Laptop Bags" is not just a catchy phrase; it's your guide to making the right choice for a laptop bag that suits your style and needs.

When in doubt, go for full-grain if you desire a rugged companion that ages like a fine whiskey. Top-grain is your smooth operator, balancing style and durability. Genuine leather offers quality on a budget, while bonded leather, well, it's a short-lived fling.

Now, armed with this leather knowledge, you can confidently pick the perfect laptop bag that'll accompany you on your journeys, whether they be to the office, coffee shops, or beyond. So, go forth and conquer the world with your stylish and durable laptop bag, and remember, the "Demystifying Leather Types for Men's Laptop Bags" has your back!