Choosing the Right Size: Men's Leather Laptop Bag Guide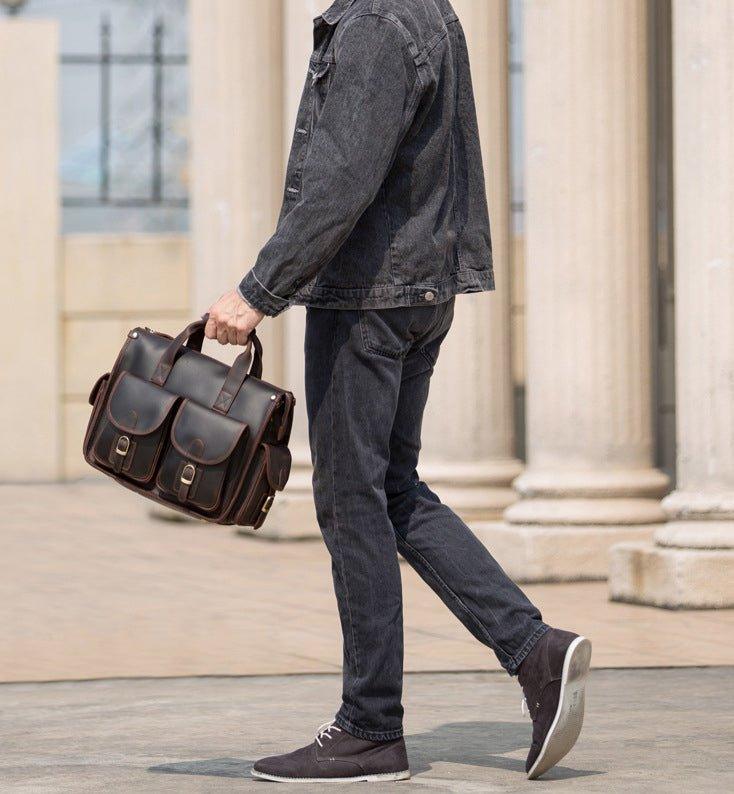 Introduction
In the world of fashion and functionality, a leather laptop bag is a quintessential accessory for the modern man. Not only does it make a statement, but it also ensures the safety and convenience of carrying your valuable tech companion. However, finding the right size is crucial to guarantee a perfect fit and maximize usability. In this guide, we'll delve into the intricacies of Choosing the Right Size: Men's Leather Laptop Bag. We'll explore the key factors, types of bags, style considerations, and even maintenance tips to ensure you make the best choice.
Choosing the Right Size: Men's Leather Laptop Bag Guide
When selecting a leather laptop bag, the first step is to ensure it accommodates your laptop comfortably. Here are some detailed insights to help you make the right decision.
Laptop Bag Size vs. Laptop Size
Selecting the appropriate laptop bag size in relation to the dimensions of your laptop is a critical decision that should not be overlooked. It is of paramount importance to choose a bag that aligns perfectly with the size of your laptop, as this not only guarantees the safety of your device during transportation but also ensures your comfort throughout the journey.
What Fits in a 17-inch Bag ?
For those individuals using 17-inch laptops, a bag designed for this specific size is an excellent choice. These bags provide ample space to accommodate your laptop, its charger, a small collection of documents, and your personal items. Opting for a 17-inch bag not only ensures the safety of your device but also contributes to maintaining a sleek and compact appearance.
Opting for a 15.6-inch Bag 
In contrast, if you are the proud owner of a larger 15.6-inch laptop, it is advisable to consider a bag with additional compartments and extra room for various accessories. This strategic choice ensures that your laptop fits snugly within the bag, eliminating the risk of it feeling cramped or constrained during your travels. The extra room also allows for the secure storage of additional essentials, such as external hard drives, notebooks, and even a change of clothes, making it an ideal solution for professionals and students who need to carry more than just their laptop.
Bag Style Matters
The style of your leather laptop bag is more than just a fashion statement; it's a reflection of your personality, needs, and profession. It's important to carefully consider your unique style and practical requirements before making your bag choice.


Briefcases are the embodiment of professionalism and a symbol of a serious, no-nonsense approach. They are the ideal choice for business meetings, corporate environments, and any scenario where projecting an air of sophistication and class is paramount. When you carry a briefcase, you exude confidence, and it's a clear signal that you mean business. Briefcases offer not just style, but also a practicality that's hard to match. With dedicated compartments for your laptop, documents, and essentials, they keep you organized and ready to tackle any professional challenge that comes your way.
Messenger bags offer a more relaxed and stylish look, making them suitable for a wide range of occasions. They seamlessly transition from work to the weekend, making them a versatile choice for individuals who value both functionality and fashion. The trendy appearance of messenger bags is perfect for those who appreciate a more casual and approachable vibe. These bags often have multiple compartments, making it easy to keep your belongings organized. Whether you're heading to the office, a coffee shop, or meeting friends for brunch, a messenger bag is a fashionable and functional choice.
Backpacks are the epitome of versatility and comfort. They are an excellent choice for students, professionals, and anyone constantly on the move. Backpacks offer unparalleled ease of use and even weight distribution, making them comfortable for extended wear. These bags are designed for those who value practicality and want to carry their essentials without strain. While backpacks might seem more casual, they've evolved to encompass stylish designs that can suit various settings. Whether you're navigating the urban jungle, traveling, or just need a reliable companion for your daily commute, a backpack is the comfortable, hands-free option that keeps up with your active lifestyle.
Functional Features to Look For
Apart from aesthetics, the functionality of your leather laptop bag is crucial. Consider these features:
Compartments and Pockets
When it comes to organization, compartments and pockets are your best friends. A well-designed leather laptop bag should offer multiple storage spaces to keep your belongings neat and easily accessible. These compartments come in handy for segregating your laptop, documents, chargers, pens, and personal items. No more rummaging through a cluttered bag to find what you need – everything has its designated place.
Straps and Handles
Comfort is key when you're carrying your laptop bag for extended periods. Look for a bag with comfortable and adjustable straps. Padded shoulder straps distribute weight evenly, reducing strain on your shoulders. If you prefer a briefcase or messenger bag style, ergonomic handles are essential for a firm and comfortable grip. The last thing you want is to feel discomfort or pain while on the move, so ensure the bag you choose offers both style and comfort.
Security Features
Your leather laptop bag isn't just about style and convenience; it's also about protecting your valuable tech. Security features are paramount. Opt for bags with secure closures, such as high-quality zippers or sturdy buckles. These mechanisms keep your laptop and other belongings safe from theft or accidental spills. Your peace of mind is invaluable, and secure closures provide just that.
Durability and Maintenance
Investing in a leather laptop bag means you're making a long-term commitment. To ensure the longevity of your bag, it's essential to practice proper care and maintenance. Leather bags, while stunning, need some attention to stay in pristine condition. Regularly clean your bag with a damp cloth to remove dust and dirt. Additionally, apply a leather cleaner and conditioner, following the manufacturer's instructions, to keep the leather soft and supple. Protect your bag from extreme elements, as leather is susceptible to water damage and excessive heat. By maintaining your bag, you'll extend its lifespan and enjoy its elegance for years to come.
Conclusion
Choosing the right size for your men's leather laptop bag involves considering your laptop's size, the type of leather, style preferences, and functional features. It should align with your personal style and budget while being from a reputable brand. With proper care, your leather laptop bag will be a long-lasting companion that enhances your professional image.