Budget vs. Luxury: Men's Leather Laptop Bag Options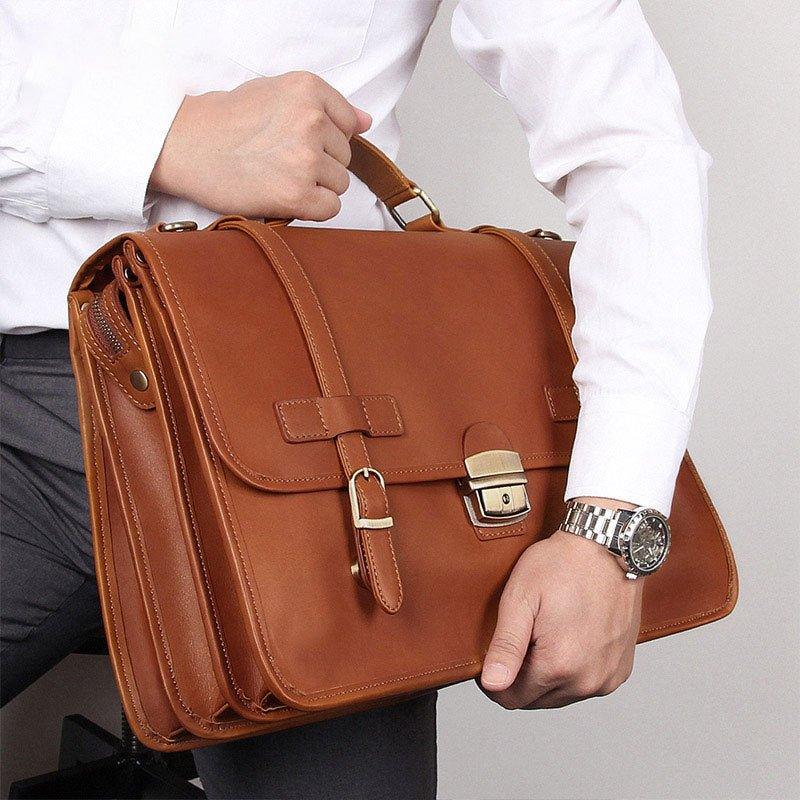 Introduction
In the fast-paced world we live in today, leather laptops have become indispensable tools for both work and leisure. To protect these valuable devices, a reliable laptop bag is a must-have. However, the dilemma many individuals face is whether to opt for a budget-friendly leather laptop bag or indulge in a luxurious one. In this article, we'll explore the pros and cons of each choice, helping you decide what suits your preferences and requirements best.
Advantages of Leather Laptop Bags
Laptop bags made of genuine leather offer several advantages that make them stand out in the crowded bag market. These advantages include durability, style, and the ability to make a fashion statement while providing protection. But the question remains: Should you go for a budget option or invest in a luxury leather laptop bag?
Budget Men's Leather Laptop Bags
Budget leather laptop bags are a practical choice for those looking to balance style and affordability. These bags are often reasonably priced and come in a variety of designs and sizes. Many reputable brands offer budget-friendly options without compromising on quality.
Features of Budget Leather Bags
Affordability: Budget leather laptop bags are, first and foremost, champions of affordability. They are a blessing for the budget-conscious and a smart choice for those looking to get the best bang for their buck. These bags don't just fit your laptop; they also fit your pocket.
Durability: While they may not carry the hefty price tag of their luxury counterparts, budget bags are no pushovers when it comes to durability. Many of these bags are crafted from genuine leather, which, surprisingly, can withstand quite a bit of wear and tear. So, even on a budget, you can still expect your bag to last for a good while.
Functionality: Budget bags are designed with practicality in mind. They understand the everyday needs of students, young professionals, and anyone else looking for a reliable laptop bag. These bags often come with multiple compartments, offering you organized storage space for your essentials. Whether it's your laptop, charger, notepads, or other gadgets, there's a dedicated place for everything. Additionally, adequate padding ensures your laptop stays safe and secure during your daily adventures.
Luxury Men's Leather Laptop Bags
Luxury leather laptop bags, on the other hand, are a symbol of opulence and exquisite craftsmanship. These bags are designed to make a statement, both in terms of fashion and functionality. While they come with a higher price tag, they offer a unique set of benefits.
Quality and Craftsmanship
The hallmark of luxury leather laptop bags is their unparalleled quality and craftsmanship. Each bag is a testament to the dedication and precision that goes into its creation, ensuring not just longevity but also timeless elegance.
Exquisite Quality: Luxury bags are known for their impeccable quality. They are crafted with precision and attention to detail, ensuring longevity and timeless elegance.
Premium Materials: Luxury brands spare no expense when it comes to the materials they use. They choose only the finest, like top-grain leather, which not only guarantees durability but also lends a distinctive look and feel to each bag. It's this attention to detail that truly sets luxury bags apart.
Style and Design
Fashion-Forward: Luxury bags are perpetually ahead of the fashion curve. They're designed to be more than just functional; they're meant to be an extension of your style. With unique and eye-catching designs, luxury bags ensure that you stand out, whether you're at a professional meeting or a social gathering.

Status Symbol: A luxury leather laptop bag is not just an accessory; it's a symbol of success and a deep appreciation for life's finer things. Carrying one isn't just about protecting your laptop; it's about making a statement. It's a nod to your achievements and your discerning taste. It's a status symbol in its own right, letting the world know that you've arrived in style.
Factors to Consider When Choosing
When it comes to making the crucial decision between budget and luxury leather laptop bags, various factors must be taken into account. Your choice should be tailored to suit your individual needs, preferences, and financial circumstances. Here's a closer look at the key considerations:
Durability
The lifespan of your laptop bag is a pivotal factor to weigh in your decision-making process. If you're someone who values a long-lasting companion for your laptop, a luxury bag might be the better choice. These finely crafted bags are built to withstand the test of time, becoming a trusted and durable partner in safeguarding your device. On the other hand, budget bags, while not as long-lasting as their luxury counterparts, can still provide decent durability. They offer reliable protection for your laptop and, if well-maintained, can serve you well for a considerable amount of time.
Functionality
The practicality of your laptop bag should align with your daily routine. Consider how you plan to use the bag. Are you in need of extra compartments for accessories such as chargers, external hard drives, or stationery? Will you be carrying the bag for extended periods during your daily commute or travels? These functional aspects play a significant role in your choice. Luxury bags often excel in both form and function, offering well-thought-out compartments and easy accessibility. They are designed to meet the demands of modern professionals. Budget bags, while functional, may have fewer bells and whistles. However, they still provide the core functionality you need to carry your laptop securely and comfortably.
Budget Constraints
Your financial situation is a key determinant in the budget vs. luxury decision. If you're working with a tight budget, it's essential to be mindful of your financial limitations. Luxury bags can be a significant investment, and it's crucial to assess whether they fit within your budget. However, don't fret if you're budget-conscious. There are viable options for those seeking quality and functionality without exceeding their budget. Many reputable brands offer budget-friendly leather laptop bags that provide excellent value for the price. By exploring these options, you can still enjoy the benefits of a leather laptop bag without breaking the bank.
Making Your Choice
In the end, the decision comes down to what you value most in a leather laptop bag. If you prioritize longevity, craftsmanship, and style, a luxury bag may be the right choice. On the other hand, if budget constraints are a concern, and you need a functional and cost-effective solution, a budget leather laptop bag can still offer excellent protection and style.
Conclusion
Choosing between budget and luxury men's leather laptop bags is a matter of personal preference and financial considerations. Whichever option you choose, remember that a leather laptop bag is a valuable investment in protecting your device while making a fashion statement.