Best Men's Leather Duffle Bags for Travel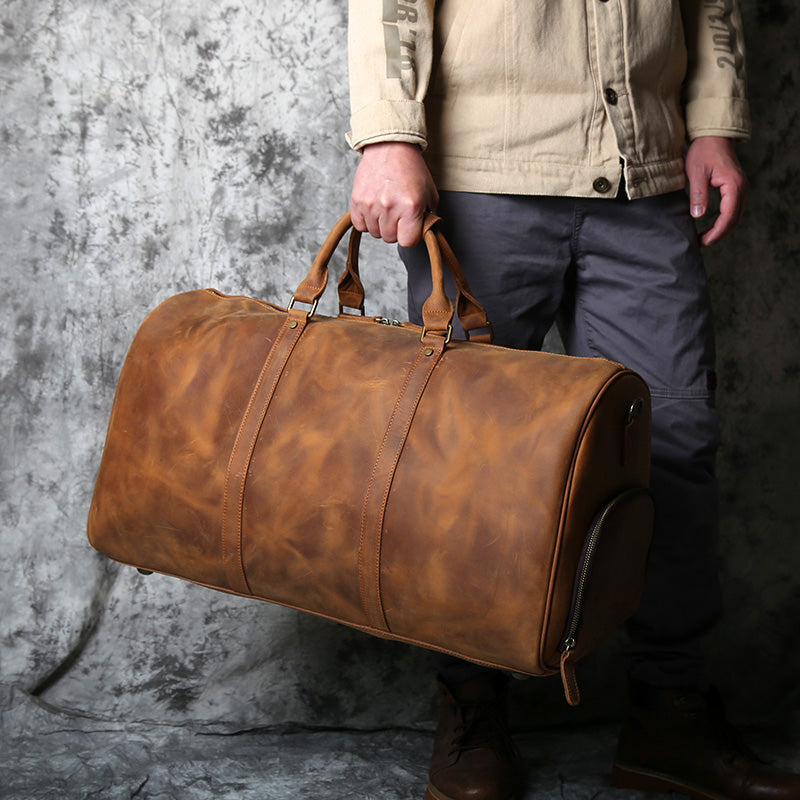 Introduction
Men's leather duffel bags have grown in popularity in recent years since they are both fashionable and practical. These bags are meant to hold a lot of clothing, toiletries, and other travel necessities while yet looking stylish and classy.

A leather duffel bag is a terrific purchase for any guy who travels regularly. A well-made leather duffle bag, unlike other kinds of bags, may survive for years. Because of its endurance, it is a fantastic alternative for regular travelers looking for a dependable and fashionable method to move their stuff.

A leather duffel bag is a statement item that can boost any ensemble, in addition to being functional. Whether you're traveling for work or pleasure, a high-quality leather bag will turn heads and leave an impression.

If you're looking for a new travel bag, try a men's leather duffle bag. It's a decision you won't be sorry for because of its blend of flair and utility.
Benefits of Leather Duffle Bags
Since they have been around for so long and are still a popular option for those looking for a bag that is both stylish and strong enough to withstand the rigors of travel. The advantages of a leather duffle bag over other types of luggage are listed below.

Durability


Durability is one of the main benefits of leather duffle bags. Leather is a durable substance that can withstand significant wear and tear. Leather duffle bags can withstand exposure to the elements, including rain and sun, and are less likely to get scuffed or damaged during travel than other types of luggage. Leather duffle bags frequently have strong handles and heavy-duty zippers as well.

Style

The fashionable nature of leather duffle bags is another advantage. A timeless material that is always in style is leather. A leather duffle bag that complements your style can be found, whether you're going for a retro or modern appearance. Leather duffle bags also come in a range of hues, from traditional brown and black to striking hues like red and blue. When compared to a sea of generic luggage, leather duffle bags can elevate and add sophistication to your travel wardrobe.

Versatility

And lastly, leather duffle bags have a huge range of uses. They can be utilized for a range of activities, including business trips and weekend getaways. You can choose a leather duffle bag that suits your needs from a variety of sizes. They are an all-purpose travel accessory because they can be used as a carry-on, a gym bag, or both.
Factors to Consider When Choosing a Leather Duffle Bag
There are a number of crucial factors to take into account when selecting a leather duffle bag. Here are some suggestions to assist you in choosing a bag that suits your requirements and tastes.

Size

The size of your leather duffle bag is a crucial aspect to take into account. Choose a bag that is roomy enough to fit all of your necessities inside without being overly large. Make sure the bag complies with your airline's size requirements if you intend to use it as a carry-on for flights. As this can influence how you pack and access your items, you should also think about whether you want a bag with one or two compartments.

Material

The kind of leather used to make the bag is another crucial aspect to take into account. Top-grain leather is more cost-effective and only marginally less durable than full-grain leather in terms of durability. The leather's thickness, texture, and any additional treatments—like oiling or waterproofing—that might impact the bag's appearance and functionality should also be taken into account.

Hardware

Your leather duffle bag's durability and appearance can both be impacted by the hardware. Buy bags with reliable zippers and buckles that are simple to use, unlikely to break, and unlikely to rust. The hardware's color and finish should also be taken into account because they can impact the bag's overall appearance and feel.

Price

From inexpensive options under $100 to high-end luxury bags that cost several thousand dollars, leather duffle bags are available at a variety of price points. Prior to going shopping, decide on your spending limit and look for bags that fit within it. Consider all the options before making a purchase because a higher price tag does not always imply better quality.

Advice for Picking a Bag

It's crucial to consider your unique requirements and preferences when looking for a leather duffle bag. You can use the following advice to find the ideal bag:

Choose a bag that complements your personal aesthetic after taking your style into account.
Consider the different trips you take and the gear you usually need to pack.
Find a bag that has a solid reputation for quality and durability by reading reviews and seeking out recommendations from friends or other travelers.
In the event that you're not happy with your purchase, look for bags that have a warranty or return policy.
Take into account the bag's weight because a heavy bag can be difficult to carry for an extended period of time.
Top 5 Men's Leather Duffle Bags for Travel
For your upcoming trip, are you looking for a fashionable yet practical leather duffle bag? According to woosir.com, these are the top 5 men's leather duffle bags for travel:

Consider features like size, material, and functionality when looking for a men's leather duffle bag for travel to make sure you get the right bag for your needs. You can find a leather duffle bag that combines style and functionality for your upcoming adventure thanks to the wide variety of excellent options available.
 Conclusion
In summary, leather duffle bags are a great option for anyone looking for a strong, fashionable, and adaptable piece of luggage. For any traveler, they represent an excellent investment due to their capacity to hold a sizable number of items, durability, and attractive appearance.

Size, material, hardware, and price are all things to think about when selecting a leather duffle bag to make sure you get one that suits your needs and tastes. You can find a bag that will serve you well for many years by taking these factors into consideration and applying the provided advice.

If you're looking for a men's leather duffle bag for travel, there are a lot of great choices available, including the Woosir Leather Duffle Bag, the KomalC Genuine Leather Duffle Bag, the S-ZONE Oversized Leather Duffle Bag, the Vetelli Leather Duffle Bag, and the Polare Leather Duffle Bag. There is a leather duffle bag out there that is ideal for you, whatever your needs and fashion preferences.