Best Canvas Backpacks for Hiking and Outdoor Exploration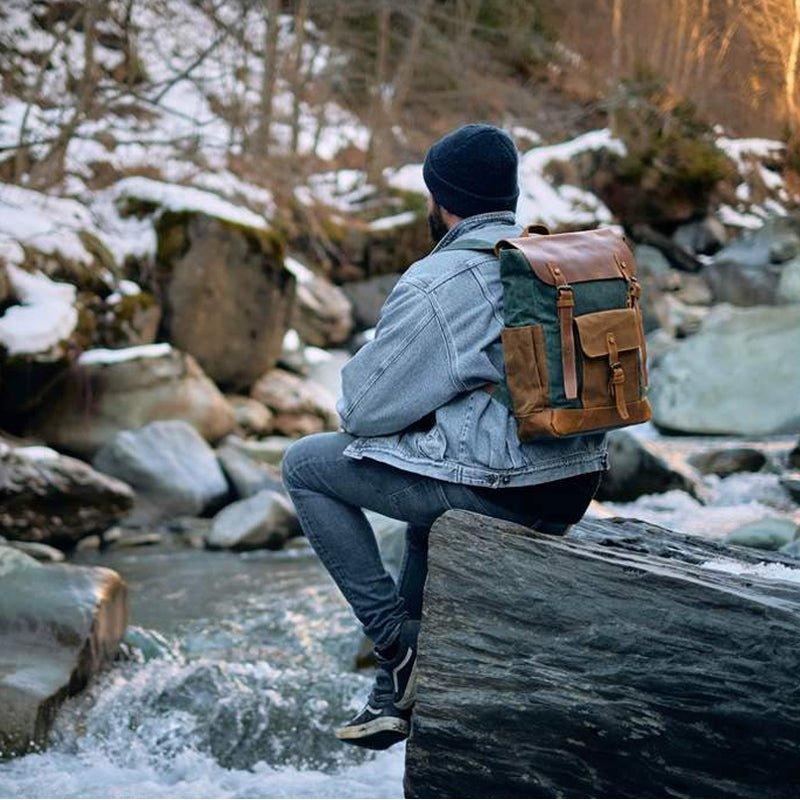 Introduction
When it comes to hiking and outdoor exploration, having the right backpack is essential. One popular choice among adventurers is the canvas backpack. Combining durability, style, and functionality, canvas backpacks are designed to withstand rugged terrains and provide ample storage for all your essentials. In this article, we have curated a list of the top 10 canvas backpacks that are perfect for hiking and outdoor adventures. Let's dive in!
Why Choose Canvas Backpacks
Canvas backpacks offer several advantages that make them ideal for hiking and outdoor exploration. Firstly, they are known for their durability. Made from sturdy canvas material, these backpacks can withstand rough conditions and are resistant to tears and abrasions. Additionally, canvas backpacks often feature water-resistant coatings, keeping your belongings protected during unexpected rain showers or splashes.

Another reason to choose canvas backpacks is their timeless style. These backpacks exude a classic and rugged appeal, adding a touch of vintage charm to your outdoor ensemble. Moreover, canvas backpacks are highly versatile, suitable for various outdoor activities such as hiking, camping, backpacking, and even daily commutes.
Factors to Consider
Before diving into our top 10 picks, it's essential to consider a few factors when choosing a canvas backpack for hiking and outdoor exploration. Pay attention to the backpack's capacity, as it should provide sufficient space to carry your gear, including clothing, food, water, and other essentials. Look for backpacks with multiple compartments and pockets for easy organization.

Comfort is another crucial aspect to consider. Ensure that the backpack has padded shoulder straps and a supportive back panel to distribute weight evenly and reduce strain on your body during long hikes. Adjustable straps and a sternum strap can also help achieve a customized fit.

Lastly, consider the overall design and additional features. Look for backpacks with external attachment points, such as gear loops or daisy chains, allowing you to attach extra equipment or accessories. Compression straps can help secure your load and maintain stability, while a hydration system compatibility is a valuable feature for staying hydrated on the trails.

Now, let's explore our top 10 canvas backpack picks for hiking and outdoor exploration:
Introducing our Waterproof Waxed Canvas Backpack Laptop Daypack, a perfect blend of style and functionality. Crafted from premium quality waxed canvas, this backpack exudes a timeless charm that complements your unique sense of style. The waterproof feature ensures that your belongings remain safe and dry, even during unexpected rain showers or outdoor adventures.
Not only does this backpack prioritize style and organization, but it also ensures maximum comfort. The adjustable padded shoulder straps and back panel provide excellent support and alleviate the strain on your shoulders and back, even during long commutes or outdoor adventures. The ergonomic design and lightweight construction make it easy to carry and suitable for various occasions, from daily commutes to weekend getaways.
When it comes to protecting your valuable electronics, this waterproof backpack is a game-changer. The waxed canvas material, coupled with high-quality craftsmanship, ensures that your belongings stay dry and safe, even in wet conditions. No need to worry about sudden downpours or accidental spills. Keep your laptop and other devices fully protected, so you can focus on your work, studies, or adventures without any concerns.
Designed with convenience in mind, this laptop daypack offers ample storage and smart organization options. The dedicated laptop compartment provides a secure and padded space for your laptop, keeping it protected from bumps and scratches. Multiple internal pockets and compartments allow you to effortlessly organize your essentials, including notebooks, pens, chargers, and more. Stay organized and efficient, whether you're heading to work, class, or exploring new destinations.
Investing in a durable backpack is crucial, especially when it comes to carrying your valuable devices. This backpack is built to withstand the test of time. The high-quality materials and meticulous craftsmanship ensure its longevity, making it a reliable companion for years to come. The reinforced stitching and sturdy hardware add an extra layer of durability, providing excellent support for heavy loads and ensuring that the backpack remains intact even with daily use.
Whether you're embarking on a hiking trip, exploring new trails, or camping under the stars, this backpack is your perfect companion. The waterproof waxed canvas material, coupled with its rugged construction, makes it highly suitable for outdoor adventures. It can withstand the demands of various terrains, keeping your gear protected and organized throughout your journey. Enjoy the beauty of nature without worrying about the safety of your belongings.
Planning your next getaway? Look no further. This backpack is designed with travel convenience in mind. The spacious main compartment allows you to pack your essentials efficiently, while the external pockets provide easy access to items such as passports, boarding passes, or water bottles. The sleek and compact design meets most airline carry-on requirements, ensuring a hassle-free travel experience. Wherever your wanderlust takes you, this backpack is ready to accompany you on your adventures.
Comfort is key, especially when you're carrying your belongings for extended periods. This backpack offers exceptional comfort for all-day use. The adjustable shoulder straps and padded back panel provide a customized and comfortable fit, reducing strain on your shoulders and back. The breathable material allows air circulation, keeping you cool and comfortable even during long commutes or outdoor activities. Experience unparalleled comfort and convenience with this versatile backpack.
Introducing our Vintage Roll Top Canvas Backpack Rucksack, a perfect blend of vintage charm and modern functionality. Crafted from high-quality canvas, this backpack showcases a classic design that adds a touch of nostalgia to your travel and everyday adventures. The roll-top closure not only enhances its vintage appeal but also provides convenient access to your belongings. Stand out from the crowd with this timeless accessory that captures the essence of a bygone era.
The dedicated laptop compartment is designed with your device's safety in mind. It features soft, padded walls that provide cushioning and shock absorption, safeguarding your laptop from accidental impacts. Additionally, the backpack includes extra padding in key areas to protect other fragile items such as tablets or smartphones. With this reliable backpack, you can have peace of mind knowing that your devices are protected throughout your journeys.
FAQs
Q: Are canvas backpacks waterproof?
A: While canvas backpacks are generally water-resistant, they are not entirely waterproof. It is recommended to use a rain cover or waterproofing spray for added protection in heavy rain.

Q: Can canvas backpacks withstand rough terrains?
A: Yes, canvas backpacks are known for their durability and can handle rugged terrains. However, it's important to choose a backpack with reinforced stitching and quality materials for optimal performance.

Q: Are canvas backpacks suitable for long hikes?
A: Absolutely! Canvas backpacks are designed to provide comfort and durability for long hiking trips. Look for backpacks with padded straps and a supportive back panel for extended comfort.

Q: Can I use a canvas backpack for everyday use?
A: Yes, canvas backpacks are versatile and can be used for everyday activities as well. They offer a stylish and functional option for commuting, school, or carrying essentials during your daily routines.

Q: Are canvas backpacks easy to clean?
A: Canvas backpacks are relatively easy to clean. Most can be spot-cleaned with mild soap and water. It's important to check the manufacturer's instructions for specific cleaning recommendations.
Conclusion
In conclusion, when it comes to hiking and outdoor exploration, a canvas backpack is a reliable and stylish choice. The top 10 canvas backpacks mentioned in this article offer a range of features and benefits to suit different preferences and needs. Remember to consider factors such as capacity, comfort, and additional features when selecting the perfect backpack for your adventures. With any of these backpacks, you can embark on your hiking journeys with confidence and convenience.