8 Top Travel Items for Your Next Adventure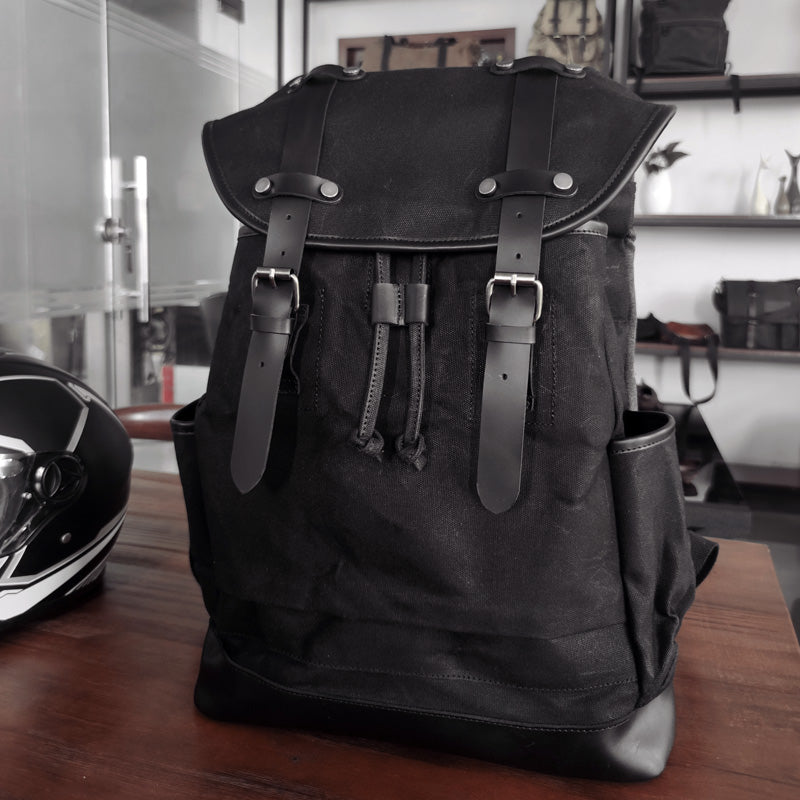 No one ever said planning a trip was easy, but it can be especially challenging if you don't have the right items. Being prepared with the best travel gear can make your journey much smoother, whether you're going on a business trip or hiking through the wilderness. If you're planning your next adventure, you'll want to ensure you have these top travel items so you can enjoy your trip to the fullest.
Woosir Waxed Canvas Backpack
One of the most essential items for any traveler is a good backpack. Not only do you need something to carry all your belongings in, but you also need something that will withstand the elements and any type of activity you might encounter on your trip. With so many options available on the market, it can be hard to know which backpack is right for you.
If you're looking for a versatile and durable option, look no further than the Vintage Waxed Canvas Backpack Waterproof For Men. This waxed canvas bag is made of high-quality horse leather that is both water-resistant and durable, so you can rest assured knowing your belongings are safe no matter what the conditions. Plus, with so many colors and styles to choose from, you're sure to find the perfect backpack for your next adventure.
Bagail 6 Set Packing Cubes
Another must-have item for any traveler is a good set of packing cubes. These handy little bags help you organize your belongings so you can easily find what you need, and they also help save space in your suitcase or backpack. This makes it easy to pack everything you need without worrying about overpacking or having to check a bag at the airport.
The Bagail six-set packing cubes are made from high-quality nylon fabric and come in various colors and sizes to fit your needs. Plus, they're backed by a lifetime warranty, so you can be sure they'll last you for years to come.
Woosir Toiletry Bags
Separate from packing cubes, every traveler needs a best toiletry bag to keep all their essential bathroom items in one place. This is especially important if you're going to be staying in multiple hotels or Airbnbs during your trip. Having a toiletry bag helps you stay organized and makes it easy to pack everything you need without having to worry about forgetting something important.
The Woosir genuine leather toiletry bags combine style and functionality, and they're large enough to fit all your essential toiletries. Plus, they have a water-resistant lining to keep your belongings safe and dry, no matter where you go.
All-in-One Adapter with USB
If your adventure is going to take you out of the country, then you'll need a good travel adapter. This is an essential item for anyone traveling internationally, and it can be a lifesaver if you don't have the right adapters for the outlets in your destination.
The all-in-one adapter with USB from Conair is one of the best options on the market, as it comes with four different adapter plugs that will work in over 150 countries. Plus, it has a USB port and lets you plug up to 4 devices at once so you can charge your devices while on the go.
Potable Aqua Water Purification Tablets
While you will likely have access to clean drinking water on your next adventure, there may still be a time when you may find yourself in a situation where the water is unsafe to drink. That's why it's always a good idea to have some water purification tablets on hand, just in case.
The Potable Aqua iodine water purification tablets are FDA-approved and are effective against bacteria and viruses. They're easy to use, and two tablets will purify one quart of water, making them an excellent option for travelers. Simply add them to water that may not be safe to drink and let them sit for five minutes, and you'll have clean drinking water in no time.
Portable Charger
A portable charger is another essential item for anyone who is traveling, as it can come in handy when you're on the go and need to charge your devices. Whether your phone runs out of battery or your camera needs a boost, a portable charger can give you the power you need to keep going.
The Belkin's USB-C PD Power Bank 10K is one of the best portable chargers on the market, as it can charge your devices quickly and has a durable design. Plus, it's small enough to fit in your pocket or bag, making it easy to take with you wherever you go. This ensures you never have to worry about your devices running out of power when you're on the go.
MZOO Sleep Eye Mask
A good sleep eye mask is a must-have for anyone who wants to get a good night's sleep while they're traveling. Whether on a long flight or trying to sleep in a new time zone, an eye mask can help you block out the light and get the rest you need.
The MZOO Sleep Eye Mask is one of the best on the market, as it's made from high-quality memory foam and has a contoured design that ensures a comfortable fit. Plus, it comes with a carrying case and earplugs, so you can keep everything together when you're on the go.
Gemice Travel Bottles for Toiletries
Travel bottles are a great option if you're looking for an easy way to pack your toiletries. These bottles are perfect for carrying shampoo, conditioner, soap, and other essential bathroom items. Plus, they're leak-proof and made from durable silicone, so you don't have to worry about them spilling into your bag.
The Genomics Travel Bottles are some of the best on the market, as they're TSA-approved and come in a set of three. Plus, they have labels so you can quickly identify what's in each bottle, and they have a wide opening, making them easy to clean.
Conclusion
When planning your next adventure, these are the top travel items you'll need to ensure you have. From waxed canvas bags to reliable adapters, these essential items will help you enjoy your trip to the fullest. So, before you head out on your next adventure, be sure to pick up these must-have travel items and get ready for the trip of a lifetime.